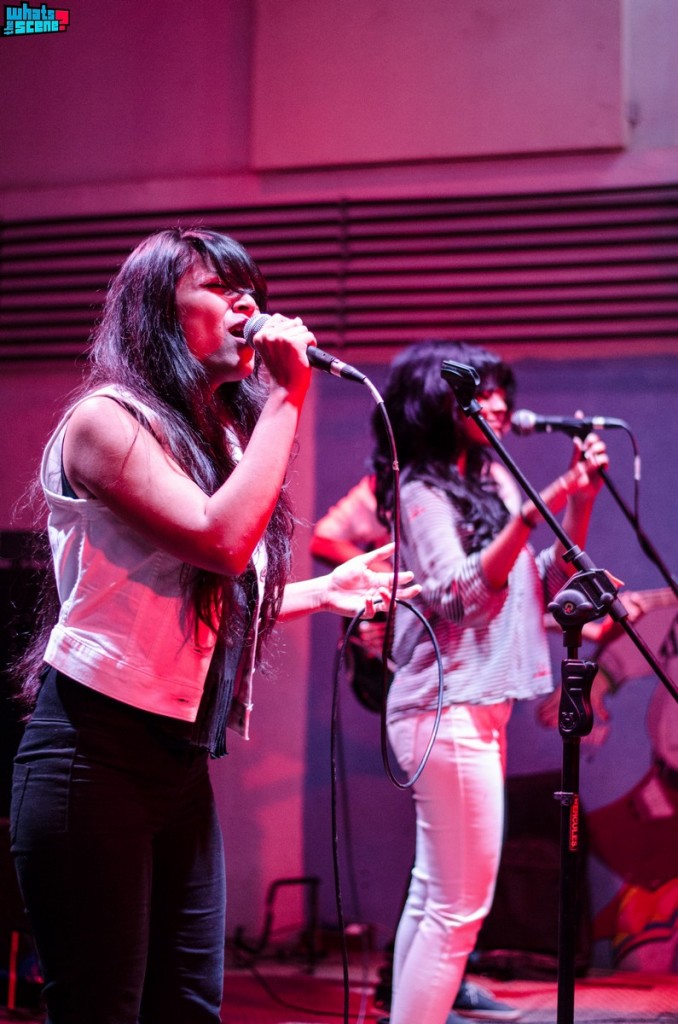 Charles Campbell
Charles Campbell
Charles Campbell
Charles Campbell
Charles Campbell
Charles Campbell
Charles Campbell
Charles Campbell
Charles Campbell
Last Saturday, an eclectic mix of female musicians descended on CounterCulture for the Women's Day showcase. Shakthisree Gopalan, Vasuda Sharma, Sulk Station and Alexis all shared the event, displaying a variety of musical styles from pop to electronica, folk to dubstep. CounterCulture proved once again its premier status as a Bangalore venue, having been beautifully decorated for the occasion. Origami birds hung from the ceiling brilliantly illuminated by the soft glow of the stage lights. By 7:30, a not only large but also diverse crowd had gathered; families with young children sat mere feet away from rowdy students taking shots. Indeed, it is a testament to the universal appeal of these four bands that they can attract such a wide variety of people to their gigs. Full of beer, delicious food, and anticipation, the crowd watched from their candlelit tables as the clock ticked onwards, gently wafted by the cool evening breeze.
It was Shakthisree Gopalan who was first up on stage, and in keeping with the relaxed twilight mood, her and her partner filled the darkening sky with mellow, relaxing tunes. Her beautiful voice, when coupled with the soft tones of the guitar, created an almost ethereal experience. However, she was by no means limited to these sultry, soft songs; her cover of 'Crazy' gave her a chance to show off her vocal range and volume. Her set built up to a fantastic finale, in the form of 'I Believe in a Thing Called Love' by the Darkness. It was bold to take such a distinctive rock song and attempt to make it her own, but through her exquisite harmonies she easily achieved this.
Vasuda Sharma was next to take the stage, facing a contented crowd half-lulled to sleep by Shakthisree's soporific melodies. Perhaps not wishing to wake them up too violently, Sharma started with one of her own compositions, 'Never Lose Heart'. Her honeyed notes further soothed the audience into an ultimate state of calm, perhaps aided by the free-flowing alcohol at their tables.
Her second song, a cover of Gotye's 'Somebody That I Used to Know' started with a mystery, as 'Twinkle Twinkle Little Star' began to play through the speakers. However, this was no nursery rhyme. Some of the audience began to sing along, prompted by Sharma's admission that she didn't quite know the words! Sharma's use of looping created the illusion of a full band on stage, and as this song began to fade, the crowd began to cheer loudly, electrified. The music, in turn, followed their lead, as Sharma moved into the electronic part of her set.
For the next 20 minutes, CounterCulture was transported to a 1980's disco, complete with buzzing synth and flashing lights. A highlight was 'People Are Funny' which included its own rap half way through. It is rare for a musician to have near-mastery over so many genres; Sharma seemingly has achieved this feat.
For nearly two years, CounterCulture had been deprived of Sulk Station. The cheers for this duo, when they were announced, clearly expressed the crowd's joy at their prodigal son (and daughter!) returning. Sulk Station, a truly international band after their recent foray into the English music scene, started their set with 'Slowly', a name emblematic of their performance. Tanvi Rao and Rahul Giri seem to complement each other perfectly.  
Tanvi's haunting vocals, coupled with the soft throbbing of the bass, left the crowd transfixed. Their set was characterized by variety; dubstep, drum and bass, and even Indian classical music all reared their heads. Their ability to stitch together such divergent categories of music surely is the key to their success.  'Bindya' seemed to typify this, featuring all of these aspects including jangling bells. The ever-popular 'Wait' continued in the same vein. The set finished far too soon, leaving the crowd screaming for an encore. Thankfully, Tanvi obliged, despite Rahul sneaking off for a beer; it was Women's Day, after all. 
As the laptops and desks were cleared away, there was a palpable sense of excitement, not least because everyone was out past the government's old 11 PM bedtime. By now, the crowd had gathered, the children gone home. Alexis D'Souza burst onto the stage, along with the rest of her band, with her characteristic energy and excitement. Indeed, no sooner had they plunged into their first song, 'Back to the Start' that the first dancers took to the floor, copying D'Souza's own energetic moves. This synth-heavy, up-tempo number was as frenetic as Sulk Station were relaxed. It was not just D'Souza's dancing but her soulful voice that really marks out this band. The harmonies between D'Souza and the back-up vocalist, Deepa Jacob, created a multi-layered performance that added depth to songs such as 'For Days', and prevented the band getting lost in a sea of synth.
However, the highlight of their set, and perhaps even the entire event, were D'Souza's compositions. Indeed, it is rather fitting that on Women's Night, she should so comprehensively steal the show. A particular favourite was 'No Matter Where You Are', D'Souza's clear voice perfectly matching the lilting guitars. Alexis took the audience on a journey through genres and emotions, and as their set climaxed, one thing was clear; Alexis are a band that defy categorization.
As the evening drew to a close, and the audience began to shuffle out, an electric hum of rapid-fire chatter filled the room. Early acts were congratulated as they sipped their hard won beers, reveling in the night's success. The only disappointment is that Women's Day comes but once a year.