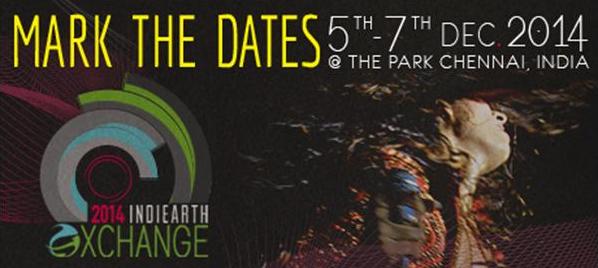 WTS News
WTS News
WTS News
WTS News
WTS News
WTS News
WTS News
WTS News
WTS News
WTS News
WTS News
WTS News
WTS News
WTS News
WTS News
WTS News
WTS News
The third edition of the IndiEarth XChange 2014 – India's trade event for international music, film, and media –gears up to hit Chennai this December 5th-7th 2014 at The Park Chennai, involving important members of the music, film and media industries from around the world and around India. The XChange's film and music festival will showcase a colourful blend of independent music and film talent from around the world.
"As India's definitive trade event, the XChange – through a series of conferences, panel discussions, networking sessions, and programming opportunities, as well as unique music showcases and film screenings – is a platform for the industry to meet in one place, know each other and have their say in the growth and future of the industry" says Sonya Mazumdar, CEO, EarthSync. The trade event provides a cost effective single point access to the best of India's artists and professionals, enabling different festivals and markets to come together from around the world and do business with Indian industry members.
In addition to the business and networking opportunities provided at the XChange, there will also be conferences and presentations for and by the music, film and media professionals designed at forging a collective voice for setting industry standards for quality and professionalism. Key delegates and media from the industry who will be present include Gerald Seligman who has been the General Director of WOMEX; Simon Broughton Editor-in-chief of Songlines UK; Anita Iyer Executive Editor of Sound Box magazine; Radhika Bordia from NDTV; international venues like L'Astrolabe (France), and programmers from international festivals like Romuald Requena of Sakifo.
The workshops offered are designed at developing practical hands-on skills in different sectors of the art, film, music and performance space, and include SoundLab 2014 – a Digital Music Production workshop conducted by German producers Justus Kohncke and Cee, being organized in collaboration with Border Movement and Goethe Institut; a workshop by Nilotpal Majumdar of DocEdge on the technical aspect of filmmaking; a workshop on using Ableton Live 9 for live performances with German based musician Madeleine Bloom; and a workshop on music journalism with reputed music critic and Editor-in-chief of Songlines UK Simon Broughtonin association with the British Council.
XChange will also include music showcases from all around the world and screenings of some of the best of independent films with top directors at XChange for discussions and Q&As. With over 22 films being screened, XChange's film program is aimed at showcasing a blend of difficult-to-access, rare films sourced from India's film archives such as Yes, It's On! – to 2014 releases from the wealth of independent artistry across the globe.The selection includes Nishtha Jain's award winning documentary Gulabi Gang, renowned animation artist Gitanjali Rao's True Love Story, Anand Gandhi's philosophical masterpiece Ship Of Theseus, Betty Martin's I Wasn't Always Dressed Like This – an intimate portrayal of the thoughts, ideas and reflections of three Muslim women, EarthSync's documentary Covelong Point which tells the story of India's first surfing village, and a fisherman named Murthy pursuing his surfing dream;Korean director Yoo Dae Eol's short comedy The Brass Quintet about Sergeant Shin and his military band, and many others. Full film schedule available here.
The line up from India this year includes a blend of the Classical and contemporary, electronic and experimental, and much in between. Manjari Chaturvedi showcases her unique Sufi Kathak form of dance, while renowned Rajasthani maestro Kutle Khan promises an exuberant and captivating performance; the infectiously catchy electro-melodies of two piece live act Madboy/Mink gear up to set the dance floor ablaze, while four piece hard rock act Grey Shack are back from Austria and ready to rock Chennai. The line up also features acts like post rock band Until We Last from Bangalore with guitar heavy instrumental sounds, The Ganesh Talkies from Kolkata with a kitchy blend of alt rock, reggae, ska and Bolly, Western/Indian rooted electronic act Sapta, and composer/producer Don Bhat + Passenger Revelator. The programming from India this year aims to showcase the sheer diversity of independent talent currently sweeping the nation. 
The International selection of artists this year includes Nathalie Natiembe, nicknamed the 'little punk of Maloya," blending her traditional Maloya influences from Reunion Island with rock, jazz and reggae; The Zenpad Experience featuring the Business Class Refugees showcasing a new concept for Ableton Live, with an interactive performance that combines Earth Moments samples and audience members participating as well. The line up also includes German multi-instrumentalist and producer Madeleine Bloom performing her live electronic set, singer songwriter Graciela Maria from Mexico, experimental electro French musician of Iranian descent Arash Khalatbari, drummer and didgeridoo player Yogev Haruvi with his one man show, German techno producer Justus Kohncke who blends minimal techno with disco and Krautrock elements – and so much more sonic splendor. Find the full artist line up and schedule here.
Entry to the music and film festivals is free to ensure audience participation in the independent arts. For more details and to register for the IndiEarth XChange 2014, visit http://xchange14.indiearth.com/