Tag Archives:
Chandresh Kudwa
Chandresh Kudwa at 3 Wise Monkeys, Mumbai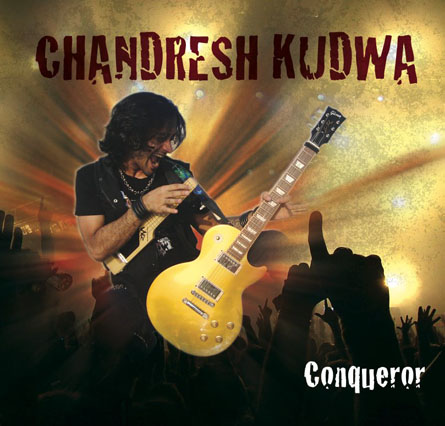 Most of us know who Chandresh Kudwa is. In fact I'd wager that anyone who's been to an Axe-tortion gig was at some point befuddled by the dexterity of his flying fingers and his ambidextrous simultaneous playing of both guitar and ukulele. And since there aren't very many people around doing that, this was a highly awaited CD release.
The album starts off with the title track 'Conqueror'. A mid-tempo chugging rocker, it immediately re-introduces (if you've heard Axe-tortion LIVE) the tone and contrast of both instruments. Some sloppy playing aside, the song does its work in setting up the album sonically. The electric ukulele sounds quite sweet even though some people would say it's not true tone, I didn't mind it at all.
'Fighting Spirit' starts with Chandresh's simple but effective riff-work. If you've listened to much of Dream Out Loud (Chandresh's ex band) it's simple yet catchy riffs like this one that always made their way to his guitar – overall a nice song.
I don't know why but while listening to 'The White Door', I was picturing Irish hard shoe dancers tapping away, and the beat of the song actually has a Spanish flamenco feel to it… go figure! I guess all this seasonal drinking has me favoring the Irish. The Ukulele shines on in this one and Chandresh's Spanish playing is more than fitting.
The next song called 'Blanket of Stars' starts off with a sweet guitar layered with rotary effect and ukulele. It has a kind of Indian touch to it – mostly a filler song.
'Princess' features a different feel completely from everything else. The song is a slow melodious one with a gated snare sound – reminiscent of something from Phil Collins' work from the eighties – and an effected guitar backing the song's chords. The guitar work is melodious and a clear effort has been made to stay away from the fast legato work that Chandresh is known for – great tune!
I heard 'G-Uke' live for the first time and was blown away. I mean I know a lot of people call it a trick or "show-sha-giri" but I'm sure it takes a lot of effort and talent to pull of playing two instruments simultaneously. The tom sounds great and really brings in an earthy feel to the song. Too much of fast playing for my taste but I'm sure shredders everywhere will appreciate it.
I was looking forward to hearing 'Good Life' which features Mattias Eklundh of Freak Kitchen fame. The song is high on energy and something that would make you want to kick your knees high in the air and do a jig. I can add this to my treadmill playlist.
'Un-silenced Majority' starts off with some tapping work and moves into a 7/4 groove. The Ukulele shows up suddenly after a much missed gap – a very slight and tasteful use of the whammy bar.
As I was listening to the dreamy soundscape of 'Edge of My Emotions' I couldn't help streaming images in my head of friends and family that I had lost recently. The song is an outpouring of Chandresh's own loss of his father and is a beautiful tribute – a perfect way to close the album.
Production-wise the album is great – all instruments and effects are mixed and mastered well. The guitar playing is consistent with what you hear when you watch Axe-tortion live and the guitar tone is great throughout the album if a little monotonous at times. The Ukulele is a beautiful instrument and works well in contrast to the fast and screaming guitars. The concept itself is quite original and The Conqueror is a great second solo effort from a well established and talented guitarist.
I landed up at the Blue Frog last night anticipating some pure guitar wizardry from some of the best musicians on the rock scene. Tonight was yet another edition of Chandresh Kudwa's long-running and popular guitar-centric initiative called Axe-tortion, where he, along with two other guitarists played individual sets before finally jamming together. On my way there, I made it a point to listen to a few staple favorites by Joe Satriani and Andy Timmons, just to get into the mood.
After the customary 'ingest-as-much-alcohol-outside-before-entering-an-expensive-place' was out of the way, a couple of friends and I entered my favorite venue. The first act was already up and featured the new shredder on the local scene, Lokesh Bakshi on stage. He was flanked by Arjun Dhanraj of NerveRek on rhythm guitars, Dusty Ryan on bass, and rocksteady drummer Hamza on well, the drums. The song they were playing had dual solos, double bass, and was certainly very loud. Not to forget Dusty's Steve Harris pose which would make one wonder if we were indeed at an Iron Maiden tribute gig!
The next song they jumped into had a nice drum intro that moved into a 6/8 groove with Ryan and Lokesh doing a Sheehan/Gilbert trading of licks. It ended with a furious 2/4 beat which would probably have got a mini mosh pit going at a venue like B69. Nothing of the sort happened here, but whatever we saw so far led us to forebode the upcoming 'jam' towards the end of the gig. Special mention here for Lokesh's fingers, that seem to fly faster than Thor's hammer, and that he extracted a nice cackling tone out of the Fender Strat that he was using.
Paresh Kamath, who was up next, is one talented and good looking dude, which my girlfriend never fails to point out to me. Well I have to agree, with the talented part at least. His guitar shot out a giant fat warm tone, with a minimum layering of effects. Hamza was still on drums and nobody minded his casual switch to an almost progressive funk style. Joining them on stage was the veteran and super attack fingers Crosby Fernandes on bass, although for some reason the bass guitar was sounding a little too wet for my taste.
I was busy marveling at Paresh's Satch influences and his legato runs when I realized that he was using a Gibson Les Paul. It suddenly struck me that the last jam was going to be an all-out guitar war featuring the Strat, Les Paul and Ibanez!
They next jumped into a song called 'Nitty Gritty', which had a very funk staccato intro. Crosby's bass playing was now shining through and he was a treat to listen to as he seemed to effortlessly complement Hamza's grooves. Paresh has a great melodic sense in his style of playing. I also loved the way he holds back on shredding all over and makes the high pitch bends the big moments in his solos. He also showed off some very imaginative loop licks in his awesome display of tone and feel.
Chandresh Kudwa is like a freak of nature. I mean what else do you call someone who plays the Ukulele and Guitar, ambidextrously and simultaneously? I guess we could call him a genius too, and although the word is thrown around a lot, it does makes a lot of sense here.
The first song, called 'G-uke' was a killer and pretty popular, which goes to show the following this unique project already enjoys. 'Floating feelings of a rare kind' followed which pulled the crowd to the front. Good bands always manage to do that. A Samba sounding song called 'The White Door' followed, with some tasteful whammy bar playing by Chandresh (Also a great way to show off your giant flashy looking Ben 10 watch!). 'All I do is this' had an excellent heavy riff although the song was a little bit boring. The band was still the same with Crosby and Hamza pulling their weight interspeeding great phrasing and tightness! Chandresh's tone was as usual perfect. Bright yet smooth and his legato shredding never sounded better.
Chandresh then invited the other two ESHs – Paresh and Lokesh back on for the last jam. They attempted one of my favorite songs of all time 'Little Wing' which was kind of a let down, with too much flash on a feel song especially when the best known versions are by Jimi Hendrix and Stevie Ray Vaughan.
Then came the surprise for the night. The band launched into 'The Trooper' with a giant crushing 3-part harmony intro by the guitarists. This had to have been Lokesh's suggestion going by his incredible shredding and the way he managed to transfix his face with this delirious expression, evidence of how much fun he was having. And if that wasn't surprise enough, the last song they launched into was by Metallica; A thundering version of 'Enter Sandman' wreaked havoc on stage with each guitar player trading solos all over the place. At one point Chandresh and Lokesh were playing lap guitars and it was a really funny moment to watch Paresh smoke out a cool cat lick in reply to the twin tornadoes of notes.
A special mention for Hamza and Crosby. Hamza was tireless and hardly ever faulty in his playing and Crosby was like Batman at this gig. He didn't have any super powers but he still kicked butt. The entire experience was thoroughly enjoyable and I would highly recommend anyone to go watch them the next time they are playing. Axe-tortion is a well conceptualized property that will eventually end up featuring every type of guitar player out there. I cant wait for the next edition.