WTS Crew
WTS Crew
WTS Crew
The second day at the beautiful Fernhills Royal Palace dawned on a venue full of people eager to get on with the festival atmosphere and lounging on the grass at the Calaloo, watching the initial bands setup while grabbing a quick breakfast. There was an invisible crackle to the air. Since it was a Saturday, more people from near and far were expected to flock to the venue, a steely glint in their eye – the determination to have fun over the weekend apparent.
Lucid Dreams started their set with an excellent rendition of Iron Maiden's 'Wrathchild'. The bands own compositions 'Father Forgive Us I & II', were not very different from 'Wrathchild', replete with sing-along choruses and great guitar work. Both were great ballads and the looming rain clouds helped create a great atmosphere around the stage.
The Vinyl Records are a pop punk band from Arunachal Pradesh and they were a good choice for the Blubaloo stage. They have a fresh and slightly off-centre vibe to them that has nothing to do with gimmicks or costume but just the music. Last year at The MAD Festival we had waxed eloquent (more like drooled in words) about all-girl band Afflatus; we felt pretty much the same about this band. And, when the vocalist Cheyyrian Bark strapped on her keytar, we were hooked. They have an EP called 'Whims' out and we were quite taken by the titular song.
Jass B'stards – dressed in dapper suits with each member sporting a Fez, this three-piece from Delhi was definitely one of the highlights on Day 2. Led by Stefan Kaye's keyboard as well as his sardonic humour, the very versatile B'stards (a nod to Rik Mayall's character  from The New Statesman perhaps?) played a wholly unique set ranging from songs in the style of jazz, Latin Samba and even 80's pop. Samba Sin Tutilo had everyone on the crowd samba-ing to the beat. Stefan even jumped into the crowd for impromptu jigs with the ladies in the crowd. From creating little loops to using heavy distortion and feedback, Mr Kaye was able to pull it all off on his keyboard. Drummer Nikhil Vasudevan played complex beats with a metronomic accuracy as well as a deadpan look on his face behind his thick beard. He also half-jokingly threw a drumstick in Stefan's general direction at one point of time during the gig!
The B'stards set paid reverence to a whole bunch of sub-genres, not usually heard in the Indian rock Scene. It also poked fun at the highbrow-ness associated with jazz music with Stefan generally taking the piss by doing things like crawling under his piano while playing it. They also used a theremin during their gig. How cool is that!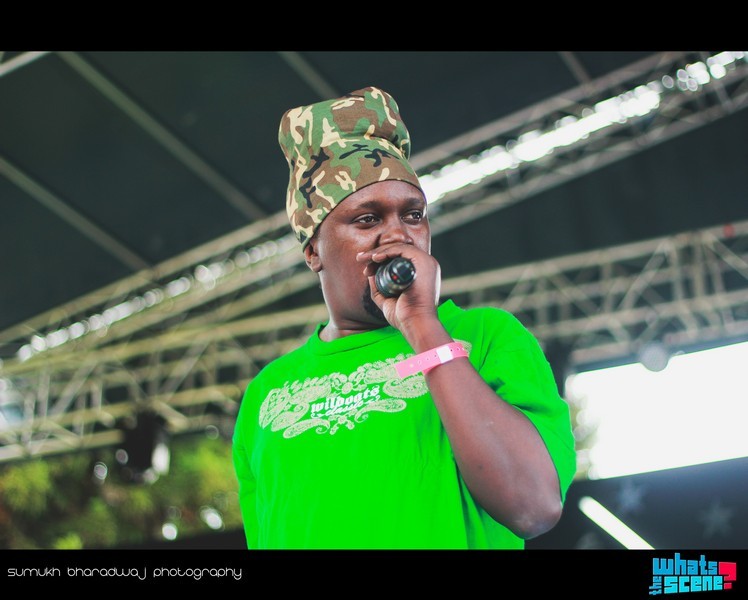 The strong Day 2 lineup continued with the a-ma-zing hip-hop/Reggae outfit Bombay Bassment. It didn't seem like there was too much of a buzz when they were soundchecking – a lone bassist – Ruell (who resembled Tom Morello with his shorts and baseball cap) tuning his guitar on stage while there was a sparse Saturday afternoon crowd lazing on the Fernhill lawns. Three songs into their set and there was a massive crowd jumping to BB's grooves! MC Bobkat with his stage presence and mic skills upped the ante on the Bluballoo stage with his old school rap-influenced vocals. 'Jump N Shout' was a cue for all of us to do exactly that, although it made taking notes for this reviewer very difficult. Their set had a great tempo too, as they interspersed some reggae jams in between their high energy hip hop tunes like "Get Down" which had a sick breakdown bit. Their gig perfectly set up the crowd for the rest of the evening, although Bombay Bassment was a tough act to follow. To quote Bobkat, "respect in every aspect".
Solder, the live wire band from Bangalore were next on the Calaloo stage.  Their genre, in their own words, is 'Happy Rock', and they surely did not disappoint. Siddharth Abraham, the exuberant vocalist, toyed with the willing audience, while the band played an effortless and a flawless set that included the staccato, upbeat and happy 'Cookie, Simple Things' with its nice four-part acapella intro, Believe, which is absolute crowd anthem material, 'Questions, Whiskey and Wine' and 'Take a Stand'. No Solder show is complete without the incredibly catchy 'Irish Coffee' and their first big hit, 'All By Myself'.  The guitars soared, Siddharth danced and gyrated, and the audience lapped it all up with delight!
Peter Isaac has been feeling the blues for the better part of a couple of decades now. Chronically even. He's even got a circus to share this chronic blues feeling. His band of not-so-merry men people though, includes some of the more exciting musicians on the Bangalore scene. The Chronic Blues Circus' setlist at Go Mad was predictably peppered with some blues standards and some originals sandwiched between those. By and large, it wasn't mind blowing but didn't exactly disappoint either (if you're a big blues fan that is). Peter Isaac's voice may have lost some of its sheen, but hasn't lost any of its enthusiasm. Miriam John's vocals coupled with Ananth Menon's guitar playing and vocals lend an eminently likeable aspect to watching this circus act. Top picks included 'Sweet Nicotine', with some stellar guitar soloing, 'Woman' and Howlin Wolf's 'Killing Floor'.
A lot was expected from UNK. Apart from the legend Radha Thomas who's been performing since the 70's, the band also had accomplished musicians such as Aman Mahajan, Mishko M'ba and Matt Littlewood. Unfortunately their jazz stylings did not really suit the mood of the festival at that moment. Meant for an intimate venue with dim lights and a fine whisky in your hand, UNK played an out-of-place and slow set to the afternoon crowd at the Calaloo stage. Radha Thomas' voice is as beautiful as ever, she often throws in little Hindustani-influenced bits amidst her smooth jazz vocals. The best moment from their set was the tongue-in-cheek homage to Dosa, parodying Bob Marley's 'Smoke Two Joints'. Called 'Rendu Dosai', the song had a listing of all the possible types of Dosa. "Sponge doSe, RagidoSe, MozarellachesedoSe". It was both memorable and bizarre and totally unexpected although their other songs lacked any real punch on the day.
Parikrama had the envious evening slot on the Blubaloo on Day 2. Playing to the just-about-to-get-drunk crowd, they provided our dose of retro for the evening with a largely by-the-numbers set. There was an announcement for Happy Hours at the bar, which saw an exodus towards the alcohol counter. Their set was a mostly a bunch of their popular songs although they played a new song unimaginatively titled 'Dominant Seventh'. Parikrama ended their set with 'Tears of the Wizard' – based on Gandalf from LOTR.
Bands like One Nite Stand really entertain at festivals such as this. The weather and the venue have a great role to play in the openness of an audience and it's folly for a band not to capitalize on this. We suspect the atmosphere and their choice of popular songs to cover had more to do with the positive response from the audience but they did entertain over at the Calaloo. We were quite taken by their original song, 'Never Let You Go'. These guys know how to work an audience and work it good!
With a constant barrage of updates on their FB page and a sizeable Indian following to boot, Pakistani act Noori was supposed to bring the house down at Go Mad. If one were to go simply by crowd response, they may have, but the vocals were a disappointment to many. Maybe the altitude and chill didn't help, but frontman Ali Noor managed to sound consistently off throughout their setlist. Kicking off with 'Kedaar', an energetic song to boot, what was immediately apparent is the quality of the band itself. Tight, full sound, great stage energy. And then the vocals kicked in. A technical glitch in the middle led to an appalling, college band level bit with a song whose primary lyric referred to one doing unmentionables to one's sister. The crowd lapped up 'Jo Meray', the Coke Studio classic 'Aik Alif', 'Nishaan' and 'Saari Raat'. Kami Paul's drumwork and Saad Sultan on the guitars lent some solidity to proceedings. Ali Hamza's more rustic sounding vocals seemed a little more pleasing than Ali Noor's. What wasn't on display was the vocal pyrotechnics one has come to associate with Noori, especially on songs like 'Aik Alif' and 'Saari Raat'. All said and done, a live act's primary job is to entertain its audience, and Noori managed to do that with the sizeable crowd that had gathered.
Indie Electro rockers Sky Rabbit followed One Nite Stand on the main stage just as the coldness in the air went from "hill station" to "Arctic Circle". There was a definitive anticipative buzz in the air and Sky Rabbit didn't disappoint. 'Hilltop' with its chorus that go "No skill, no kill, you're on a hilltop" seemed like it was written just for this festival. The happy-high crowd heads' bobbed along to Raxit Tiwari's reassuring voice while the band belted tracks of its eponymous album. The ended their set with the anthemic 'Anti-Coke Ganapati', a song whose lyrics everyone knew! If one was forced to choose an act that matched the vibe of the festival, Sky Rabbit would be that act. An impressive set which unsurprisingly had calls from the audience for an encore which unfortunately did not happen. The ending of the set was also a cue for this writer to go in search of more alcohol.
Jeremiah Ferrari's mix of Reggae, Calypso and Punk makes you involuntarily bob your head, even as you're trying to understand exactly what they're singing. They have the thick Jamaican Reggae accent down pat and they play with an easy energy that you could probably brush off as youth but we have a feeling these guys will be just as energetic twenty years down the line. Their first song 'Legalise' went slightly unnoticed since the crowd took a little while to gather but 'No Booty' was catchy enough to set the mood for the rest of the set. Lead vocalist has the machine gun delivery of words down to an art. Their songs 'Mindless Riot', 'Dubby Rock' (Yes, it's about what you think it's about) were our favourites of a dozen-song setlistand their cover of Marley's 'Sheriff' was authentic to say the least. All in all, they made us jump up and down to their music, something that probably saved us from imminent hypothermia. We're eternally grateful.
Over at the Blubaloo, the last act for the night was the Natya and STEM Dance Kampni. Madhu Nataraj and her team brought together the different aspects of STEM – Space, Time, Energy and Movement to communicate with a vocabulary that used  the body in two different ways . At one level each individual created distinct images as a part of a whole, like different dots in a pattern – remove one dot and the whole image loses its appeal. And at another level all the dancers came together to form one single colossal entity. Trained in Kathak, contemporary dance technique, Yoga, martial arts like Kalari Payattu and Thaang ta, the dancers used minimal facial expressions in order to give the entire body the power to emote. The frontiers of classical idiom were extended in order to connect with the contemporary audience.  In order to make this dialogue more appealing the lighting was designed in a way where it gave a unique dimension to the choreography. By keeping the costumes and the make- up simple the idea was to accentuate the movements and explore the dancing space in a much deeper way.
When moments from a sports event are captured they look no less than dance movements. The player experiences excitement, anger, passion, fear, disappointment, elation, sense of loss and achievement within a limited period of a game and that comes out through his/her body in myriad ways. This aspect of sports which looks very similar to a dance was presented in the piece titled 'Sports'. The dancers 'danced' different sports and also enacted the drama which goes along with the game. Racing, cricket, basketball, tennis, sword fight, hockey, kabbadi were some of the sports featured. Dressed in orange and black they moved to different mnemonic syllables which were rendered keeping in mind the feel of the sport.
'Vajra' stands for the thunderbolt and the diamond – both are related to light and are considered powerful in their own ways. This piece brought together the aspects of luminance, indestructibility, force and strength in order to depict the images of Shiva and Shakti. The dancers looked magnificent in white costumes. With excellent body technique, amazing control of energy in movements, perfect synchrony and stability; they weaved myriad patterns on stage to depict the iconography of Shiva and Shakti. Beats on damru, resplendence of the moon, gentle flow of water were shown in unique ways by using the entire body and not just the mudras. And suddenly the stage was lit with light beams coming from the torches tied to the dancers' bodies which added a unique dimension to the movements.
It was a solid day for anyone who attended and as it began to sink in that there was but a day left to the festival, everybody tottered home to their tents or rooms shivering, vowing to come back the next day super-energized and with at least five more layers of clothing.
By,
Sohan Maheshwar, Sharanya Nair, Bharath Bevinahally, Purva Dhanashree, Uday Shanker, Rohan Arthur