Gaurrav Tiwari
Gaurrav Tiwari
Gaurrav Tiwari
Gaurrav Tiwari
Gaurrav Tiwari
Gaurrav Tiwari
Gaurrav Tiwari
Gaurrav Tiwari
Gaurrav Tiwari
Gaurrav Tiwari
Gaurrav Tiwari
Gaurrav Tiwari
On their second coming to Bangalore, and after the much-acclaimed first and second albums, it was only expected that Goldspot were up for a super-gig this time around. And what happened was as uplifting as it was exciting. The incredible energy, top-notch performance, and astonishing fan-frenzy, added up to create a fantastic atmosphere. I had come across a description of Goldspot somewhere that said "This is where The Beatles meet the Golden Oldies of Bollywood" – and that is exactly what a lot of us got to witness that evening.
Goldspot has been around since 2001, and has gathered a lot of international following and critical acclaim over the years. The band has produced two studio albums and a third is in the making. Their songs have been featured on many popularity charts, television shows, commercials, movie trailers, and OSTs.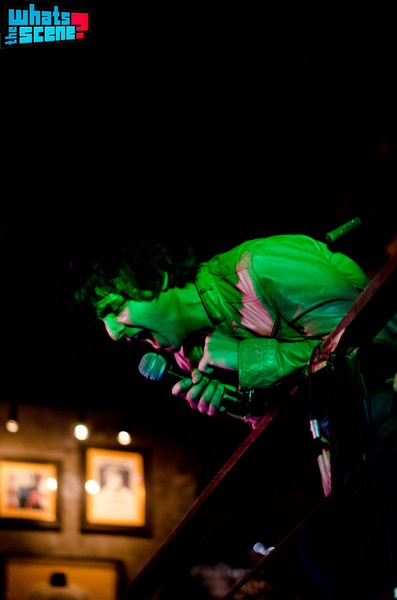 January 2012 saw Goldspot's third coming to India, after their visit in February 2008 and 2009. This time their tour kicked off at IIM Lucknow after which they performed in Delhi, Mumbai, Pune and Hyderabad, before they finally landed in Bangalore. Before the show began, I spoke to a few people and figured that not all of them were aware of Goldspot's work – only a few of them knew about Goldspot's earlier albums and famous singles. I'm guessing it was only later that their real fans arrived, because once the gig started, I could hear people singing along and there were constant requests for popular songs by the band.
In the past few days, I have heard both of the band's albums thoroughly, and I came there expecting a performance that would hardly go any heavier than soft-rock, although I didn't rule out the possibility of it drifting treacherously close to pop. However, Siddhartha Khosla (vocals), Jacob Owen (guitar and keyboard), James Gabbie II (lead guitar), Adam Chilenski (bass) and Darren Beckett (drums), created an experience that any rock concert-goer would appreciate.
Here's the thing about their songs – western arrangements which may remind you of artistes such as The Beatles, REM, Coldplay, Snow Patrol are subtly combined with Kishore Kumar, Paul McCartney-style singing, and Shankar-Jaikishan, S.D. Burman-esque sensitivities and melodies (and these happen to be just a few of the influences).
'Rewind' and 'Friday' are two of the most popular songs by the band, and they chose to open the gig with the former, and sign off with the latter. The songs were emotionally intricate, while the tunes were still light. But then again, that is the case with most Goldspot's songs. 'Rewind' also happens to be the track that has featured on How I Met Your Mother (Season 5, Episode 2). 'Friday' has been done in both English and Hindi and Sid performed an expected medley of the two versions.
'Call Center Girl' and 'Paperboats' were up next and despite the fact that the show was only three songs down, the crowd was already immersed in the band's music, bouncing about and swaying their hands.
'Emily' has the spark and hope of youth with a wonderful level-headedness. The lyrics range from something as innocent as "a pair of fourteen year olds holding hands", and as mature as "if we can be wise we'll part with the pride set our egos aside".
'One Year Anniversary' and 'Tale of a Fish' reminded me of heartaches and heartbreaks. 'One Year Anniversary', which posed the unanswered question "Why is this damn life so hard?" was kept light-hearted with spirited guitar work and a catchy tune.
'Grocery Store' brought cheer not just because of the xylophone notes or because of the fact that it is a lively song by nature, but also because of the repetitive "Pum pa ra ra ra" (strongly reminiscent of Kishore/Burman/The Beatles) something that Sid seemed to find a lot of joy singing and the audience found equal joy dancing to!
'What's Under the House' and 'It's Getting Old' followed next. 'It's Getting Old' didn't seem to move me as much as the other songs did, and in my opinion, just seemed to act as filler material. For 'What's Under the House' saw Sid dancing with the people in the audience, with child-like effervescence. This is the typical rock-n-roll track, built on 2/4 beats, but only more flamboyantly arranged.
If they were running short on time, 'It's Getting Old' could well have been avoided, and Sid could have obliged the screaming audience's pleas for 'Miss Johnson' but he didn't. When the show ended, this resulted in a lot of complaints from heartbroken female fans who almost wept saying, "They didn't play my favourite song!"
'Clap Clap' is a song you might recognize from the Apple iPad's guided  tour video  (at the 00:20-00:53 mark). This, as it seems to me, is a lighthearted take on heartbreak and the subsequent moving on. Darren with his drums was undoubtedly the star for this track, as the outro for the song was made super-entertaining with his thunderous drumming, something that's not heard on the album version.
The surprise of the evening came with 'Jaane Kahaan Gaye Woh Din', from Raj Kapoor's Mera Naam Joker. Sid showed us how with a capo on third fret, and some simple chords, a timeless classic can be brought back with a lot of psychedelic quality to it. A heart-wrenching song but a deliciously trippy cover!
By this time, the sound system at the venue that seemed to be delivering well beyond 3000 watts started to seem insufficient as the crowd's screams were getting stronger with every song that was played. Increasing volume levels on the PA wasn't the wisest solution, as the feedback that occurred was not exactly what one would expect from a place like Hard Rock Café, Bangalore. At many points this was also a problem for the band members who seemed dissatisfied with the on-stage monitors right from the start. When Sid went down dancing on the bar counter, and on the floor with the audience, it wasn't unexpected that he'd lose track of either the beats or the key for his vocals – which almost happened when they played 'What's Under the House', and finally did end up happening during 'Ina Mina Dika'.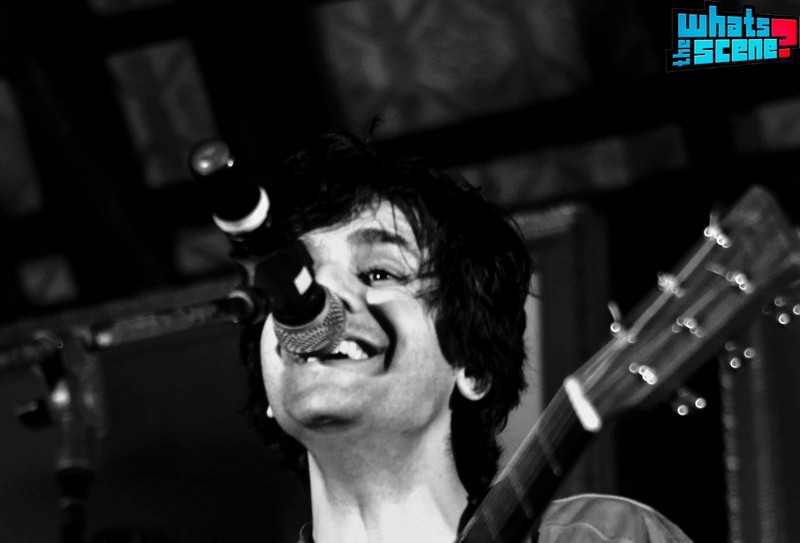 Before signing off, Sid gave a sneak peek on the upcoming album with 'The Abyss' and the show concluded with the much awaited 'Friday'. Thanks again to the PA installed, I could not decipher most of the lyrics from 'The Abyss'.
Goldspot has managed its espousing of genres pretty well, while still not bastardising the output. They have created a sound that we can recognize, and which is not a potpourri of confused genres. Their music deserves, and has the ability to charm an audience much larger than a packed house at a pub.