Hindi Rock already enjoys a lot of popularity and it is particularly hard not to feel queasy when a band proclaims itself to be 'Hindi Progressive Rock'. The long-haired, Lamb of God loving dudes when made aware of their earthly 'Indian' roots, can yield results that can be quite a mess. Stereotypes are a plenty and this is what Coshish shuns through their concept album Firdous. How successfully, remains a contentious question! Coshish is a four-piece band from Mumbai with Hamza Kazi on drums, Anish Nair on bass, Mangesh Gandhi on guitar and vocals and Shrikant Sreenivasan on lead guitars. Coshish, with their debut Firdous makes a dexterous attempt to fuse their eastern and western influences, encompassing everything from Meshuggah and Tool to Nusrat Fateh Ali Khan.
Coshish had their PR act sorted way before the much anticipated release of Firdous and a 'Hitler Reacts' video gets a worthy mention. This was perhaps just the precursor to how well thought-out their album would be and Coshish has not disappointed on that front. The very concept of Firdous and its artwork is as much laudable as unprecedented it is in the independent circuit. This ten-track album is bound by a unifying theme which is not all that apparent as one may think. The listener is expected to stitch the clues hidden in its artwork and rearrange the tracks to turn it into one seamless track. For the spoilers though, Coshish is the story of a man who denounces this mundane world full of pain and attachments. Anyone thought of Siddhartha or Kurt Cobain there?
Song-writing and the composition does more than a fair job but it's the vocals that are unfashionably mediocre. The harkatein (nuances) have plenty of sharp edges and the voice overall is barely sonorous to effectively communicate the darker feel of the album. The title track 'Firdous' and 'Bhula do Unhey' stand out while the radio pop rock 'Coshish' is the perhaps the biggest dampener in the entire album. Though, it's the finale 'Mukti- an instrumental' – the grandest of all that truly enriches the flavour of 'Progressive Rock'. The track, in its entirety, traverses through mellow overtures which are subsequently taken over by heavy riffs and some impressive solos by Shrikant. Having said that the production deserves credit and you have none other than the ever-impressive Zorran Mendonsa to thank for that.
The underlying darker theme, the album artwork and the music may have struck a few discordant notes, but Firdous still remains a remarkable debut. It is in every sense an unprecedented and indeed a very brave foot forward by Coshish. The very idea of a theme or a story to the entire album is a refreshing one and we can just hope for a domino-effect!
Sharanya Nair
Sharanya Nair
Sharanya Nair
Sharanya Nair
Sharanya Nair
Sharanya Nair
Sharanya Nair
Sharanya Nair
Sharanya Nair
Sharanya Nair
Sharanya Nair
Sharanya Nair
Sharanya Nair
Sharanya Nair
Sharanya Nair
Sharanya Nair
Sharanya Nair
Sharanya Nair
Sharanya Nair
Sharanya Nair
Sharanya Nair
Sharanya Nair
Sharanya Nair
Sharanya Nair
Sharanya Nair
Sharanya Nair
Sharanya Nair
Sharanya Nair
Sharanya Nair
The Mad Festival sprinted into its first few hours, admitting a respectable amount of people into the sprawling venue on a beautiful Thursday morning; at this point, there was only a hint of rain on the horizon with people (rather than the sky) rumbling warnings of possible rains.
Post the invocation, things kicked off at the smaller Callaloo stage with Vayali, a bamboo orchestra. Comprising a number of bamboo drums and flutes, one expected some good energy from these musicians from Kerala. However, their choice of songs wasn't the most inspiring, and having the sparse crowd right at the beginning of the festival didn't help matters either. We would've loved to see some more traditional stuff from these guys instead of picking up common, run of the mill material, as well as some more energy with the bamboo.
Across the venue, past the Mad Bazaar, old-school metallers Kryptos had the misfortune of opening the festival at the Blubaloo stage to a very limited audience. The sparse crowd, which had certain members from Indian Ocean in their midst, were treated to an unsurprising setlist consisting of concert favourites such as 'Heretic Supreme', 'Revenant', 'Mask of Anubis' and a few other tracks from their latest album Coils of Apollyon. Kryptos are no doubt accustomed to playing to packed crowds at Kyra but they did a fairly good job of trying to keep the energy levels high. Nolan was mostly tongue-in-cheek on stage as they launched into their closing number – 'Descension'. Unfortunately, they slightly messed up their signature number – though you couldn't really blame them for exhibiting some lethargy on stage.
Over at the Callaloo stage, Groove No. 3 took the stage right after Vayali, and showcased a brand of funk that one has come to associate exclusively with Chennai. Featuring some stellar vocals courtesy Benny Dayal, these guys pulled off some nice grooves, with some tight drum and bass playing. The crowd, sparse at the beginning, built up through the show. Save for Benny though, the stage presence was lacking. A funk band should not have their bassist sitting down for the duration of their set, especially with bass lines and music with as much groove as these guys. 'Nowhere to Run' was a clear stand-out, although their set was a tad disappointing on account of the number of covers in it. Among the covers though, the funky rendition of 'Summertime' stood out. The next time round, an all original set would be a welcome change.
While Groove No. 3 occupied the smaller stage, Yodhakaa – a 7 piece-band that blend contemporary rock with Carnatic classical music – were initially scheduled to open the festival but their late arrival bumped Kryptos to the top of the schedule. They played after Kryptos instead and their set included the 'Jnyaanam', a song with a really groovy bassline that is arguably the band's best. What really makes the song is the male-female vocal harmony throughout the track. They also performed 'Shwetambaram', which is another track from their eponymous debut album. The song moves from a sombre piece featuring slide guitar to a more upbeat one dominated by a classical guitar solo. Yodhakaa were extremely tight during their entire performance even on their new song- 'Adhrijhadam' – which featured a Cajon solo. Their music perfectly complimented the signature 2 p.m. Ooty weather. They closed out their set with 'Jataa Kataa', a song from the Ramayana that was sung by Ravana. Bandleader Darbuka Siva is a multi-instrumentalist and musical genius when it comes to songwriting. Their music (on the album and live) is crisp, catchy and rich and they deserve to be heard more. A hurried walk to the Callaloo stage takes us just in time to catch the much-touted Motherjane.
Motherjane has never really been the same since longtime vocalist Suraj Mani and guitarist Baiju departed the band. They've soldiered on nevertheless, with new vocalist Vivek who manages to sound exactly like Suraj. Their setlist played out like a greatest hits record but with the fizz taken out. Their performance was quite flat and it got monotonous very soon. New guitarist Santosh can really shred and his classical piece on the 'Maktub' intro was fantastic but his solos seemed little rushed. It also didn't help that almost every Motherjane song follows a similar verse-chorus-verse-guitar-solo-chorus format. 'Broken' and 'Mindstreet' got some sort of response from the crowd more due to familiarity than any sort of energy from the band on stage. 'Soul Corporation', 'Maya', 'Fields of Sound', 'Walk On' etc. were few of the songs they mechanically played before finishing off their set with 'Karmic Steps' and 'Shhh..Listen'. Ironically, not too many people did.
Swarathma played at what must be an unusual time slot for them, bang in the middle of the afternoon. Kicking off with what has become a crowd favourite, 'Ee Bhoomi', the energy one is so used to seeing at a Swarathma gig was missing somewhat, Vasu Dixit's vocals not at their exuberant best. The first couple of songs had something off on the mix on the PA, with the bass drum too high, the guitar levels too low. 'Ghum' was executed well and 'Topiwalleh' brought some of the energy back, the levels seemed much better than before, and despite a major glitch with the PA, including a couple of seconds of shutdown, the band began to draw some more energy out of the still sparse crowd. 'Koorane', featured some Huli Kunitha (Tiger Dance), costumed actors, who seemed to take away from Swarathma's already impressive stage act rather than add to it. Swarathma did bring some of their awesome energy back for the end, with 'Pyaar ke Rang'. The little tete-a-tete between Amit Kilam of Indian Ocean and Vasu Dixit also provided some comic entertainment. The ghodi, so much a part of the Swarathma act, was missed though. All in all, Swarathma didn't disappoint but didn't exactly blow people away either.
What followed was a close to two hour delay thanks to an incessant pitter patter of the rain. While organizers rushed around, mainly trying to keep things dry and, well, organized, people huddled near the food stalls and other forms of shelter; several even braved a stall with a magician in it! The stall kept the small crowd thoroughly entertained (and dry) and the magician watched with unabashed amusement as they tried to make sense of his various magical paraphernalia and failed repeatedly to the steady stream of self-conscious giggling.
Two hours seemed to pass quickly though, and World Music aficionados Moon Arra were finally taking to the Blubaloo stage. As the cameras hovered around importantly like lumbering giants in the twilight haze, members of the audience who'd run for cover to dignified (the Fern Hills palace) and undignified (Mad signboards serving as makeshift umbrellas) places returned to the eaves of the stage to the ever-welcoming MoonArra ("We don't mind the rain if you don't!" said a hardly phased Madhuri). While it strikes us as unfortunate every time we see them live that Moon Arra's stage presence leaves something to be desired, they never disappoint by way of their music. Madhuri's vocals are the perfect juxtaposition to the clean, smooth lines that Prakash and Jagadeesh carve with their respective instruments. After a few songs from their album Indian Accent, we realize that this is the perfect segue back into full-fledged performances at the festival after the rains. As a fan for life of Mr. Sontakke's pitch perfect genius, we bristled when a passerby casually opined – "This Skinney Arra is not bad, man". Persevering against the urge to strike said passerby, we focused instead on the meager compliment in that statement and re-immersed myself in the dulcet tones of the vocalist. The band didn't have much of an audience to play to, with pockets of people watching from various angles – but it was borderline acceptable what with the rain pouring a damper on events.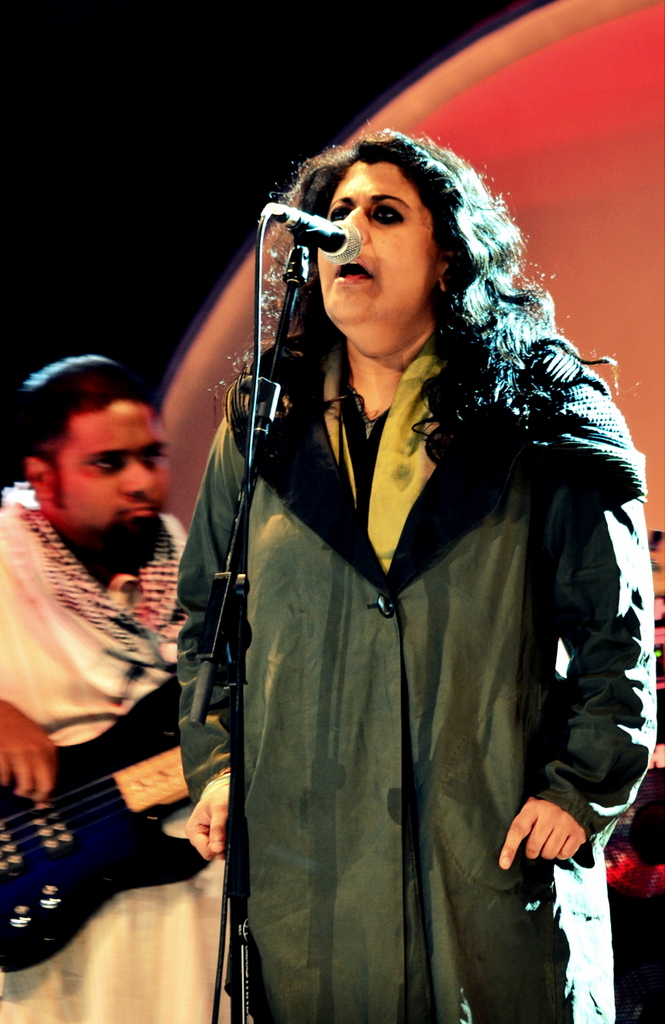 Skinny Alley, over on the Calaloo stage, was quite the interesting act, clearly intent on keeping with the times. Fans of their earlier releases, such as 2003's '˜Escape the Roar', were treated to a wholly different rendition of some of their signature tunes. Gyan Singh's basslines, a heavy dose of electronic embellishment, combined with Jayashree Singh's vocals, layered at times with a harmonizer, figured prominently throughout their set. A big draw for several Skinny Alley fans is Amyt Datta's guitar playing, and the audience at the Mad festival weren't left too disappointed with some great albeit very different sounds coming out of his guitar. We would've liked to see some actual harmonies though. Highlights from their set including their opening track, were 'Woman Who Is Me' and 'Used to Be Mine'. Skinny Alley managed to surprise a good portion of the audience, pleasantly and otherwise with their current sound. The visuals in the backdrop, however, at times seemed out of place with the music being played.
The Raghu Dixit Project trundled onto stage and was one of the few bands who had a sizeable audience already gathered during sound check, pushing and shoving for prime place near the barricade. During any of his shows, it's mandatory to show some love or Raghu makes sure he points you out and jocularly shames you into having some fun. His shouts of "Puma! Too cool to dance?" or "Madam! You can send sms to your boyfriend later" into the crowd did just that. Turns out that heckling the crowd makes them, (even people further back from the stage, far from the singer's eagle eye) begin bouncing in real or faked enjoyment. Such is this band's infectious enthusiasm and Raghu's powers of persuasion. 'Masti ki Basti' (particularly loved the flautist's section on this song) and a brand new Kannada song – the melody to which sounded suspiciously familiar – warmed the crowd up for their last couple of songs 'Lokada Kalaji' and 'Mysore Se Aayi'. Raghu made sure to mention that the band was playing in front of the queen (you know which one!) later this month, which was met with the appropriate amount of cheering and smiles of national pride.
It has to be mentioned that the crew from Cobalt were thorough professionals and utterly immovable when it came to the timing allotted to bands, big or small, after the downpour that affected the scheduling for the day. It's a testament to their will that they persevered and said no to crazed TRDP fans screaming "One more" repeatedly. Once again, we tip our hats to the people behind the scenes!
And so we move on – with Raghu Dixit's surprisingly nullified by the distance between the stages, Soulmate came on at the Callaloo stage in their usual sedate, unfussy manner, with Tipriti looking spiffy in a vested shirt ensemble. The air was now carrying a slight nip that made the atmosphere crackle with electricity – mostly static, thanks to the woolens being whipped out. The weather and the general mood would have turned been elevated into a higher experience if the band had decided to play 'Sier Lapalang', their usual opening number. But the audience was more than happy to settle for 'Smile at Me'. Barring the slight over register of guitars that was fixed post haste, the band had a flawless run. Rudy's slide on the intro to 'Sunshine' and his solo later gave the song amazing punch, outdone only by his laidback, easygoing vocals. What was an absolute shocker (that really shouldn't have really been a shocker considering the talent this band has) was the fact that Tipriti's voice sounded shot to hell when she spoke into the microphone between songs. But, we'd have betted unrealistic amounts of money that no one could tell from her singing voice that she had any trouble at all. She made it through the entire set like a trooper, hitting those high, loud notes and even maintaining that dreamy guttural quality that is so typically hers now. Soulmate's lyrics aren't a complicated battlefield of metaphors and hidden meaning but then that begs the question, why do they seem so gosh darned perfect? Our song pick of the set was definitely 'Set Me Free'. They've got the performance of this song right down to an art form.
At the Blubaloo stage, the lull in the wake of the boisterous Raghu Dixit welcomed The Electric Konark Band, which was quite frankly an unknown quantity for this reviewer. While the band as a whole didn't strike a bell, the individual members were illustrious enough to generate the right amount of interest in the right amount of people. Their tagline – "Going Electric with integrity" served to remind us of reading about the genuine feeling of regret from fans and some in the musical community of the 60s at the tumultuous switch from acoustic to electric, this while the latter genre was still in its infancy. The band inaugurated the set with a meaty guitar-driven melody (thanks to the immensely talented Konarak Reddy) – notes bent to Indian classical that were merged into a Western scale backdrop. When the tabla and the bass (Rzhude David) came in and sparred through the mid-section of the song, we knew what we were about to experience was one of a kind. The first song 'Mango Ripples' was a masterpiece in timing, precision and technicality. Unfortunately, due to the rain-related delays, a visibly (and audibly) peeved Konarak Reddy groused that the band had only five more minutes to play and didn't waste any more time on talking.
On a side note, while it was apparent that we were in the presence of some seriously talented artists, one wonders how long the attention span of an (and stress on this) average listener would have to be for him to be able to be completely immersed for the duration of a ten-minute, non-vocal song. Some members of the audience were soaking in the music at the very front while others allowed themselves to be distracted by conversation, clearly taking a breather, in the wake of an energetic Raghu Dixit performance. Either way, it was a true pleasure to watch the maestros play off each other and genuinely enjoy their time on stage.
The Kabir Project, an eclectic bunch of musicians that take inspiration from the works of Kabir, was a breath of fresh air. While the crowd watching wasn't particularly significant in number, those who did stay back to catch this eclectic act who performed after Soulmate were treated to some delightful interpretations of the 15th century poet they take their name and inspiration from. There were some nice harmonies incorporated as well, mixing nicely into the set up they had. Thanks to the rain earlier that day and the subsequent scheduling constraints their set was curtailed into a short, albeit, refreshing one.
The last act of the evening was Indian Ocean on the Blubaloo stage. Despite a reduced set time and a plethora of sound issues including the rain earlier in the day ruining the mixer settings and their sound check, Indian Ocean sounded brilliant on the PA. Their setlist was short, crisp and rather energetic. 'Bondhu', from 16/330 Khajoor Road, their last album with late singer, tabla player and percussionist Asheem Chakravarty, a poignant track, drenched with emotion was probably the pick of the night for this writer. Evocative, the track showcased Indian Ocean at their melodic best. 'Maa Rewa', 'Bandhe' and especially 'Kandisa' got the crowd singing along and completely involved with the act, and displayed exactly why Indian Ocean are so revered in the independent music scene in the country. If we had to pick a crib, it would be that the band tends to stick to the staple crowd pleasers at the festivals. All in all, a thoroughly engrossing performance, that highlighted Indian Ocean's professionalism despite the major glitches with the sound, and one that brought the first day's action to a rousing close.
The chilly Ooty air did nothing to deter large groups of people from lingering at the lawns near the Blubaloo stage as they soaked in the after-effects of a smashing day filled with too many good acts to pick from. After all manner of cat calls and one liners being screamed into the night (from "We want more!" to "Free smokes!") in vain, the remnants of the audience began their journey home, leaving the warm glow of Fern Hill Palace to stand guard over a venue that had in its first day been branded indelibly into our memory.