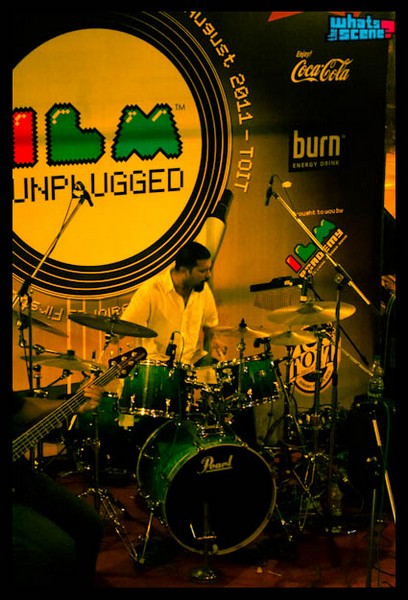 We were late. 2:30 p.m. on a Sunday just can't be viewed as a strict time to start anything, so we rocked up well into Allegro Fudge's set. They were really in the heat of it and quite an audience had already assembled.
You really can't underestimate the power of The Beatles, and after 'Colours Fly', Allegro Fudge truly erupted with 'Hey Jude' – was it 'Gay Dude', or did we mishear? They filled up the 40 feet ceiling of Toit's central area: sound guys got stuff down tight! Sahaas was in his element more than I've ever seen him before, heavily involved with an adoring audience. The rest of the evening was no different, the crowd today was really happy to be there, loved everything, and waited patiently for more. Allegro had a new bassist as well: she hasn't confirmed joining them full time, so I guess we hang tight and wait for the big news. A bass change could be fairly significant in the long run as we've already seen with TAAQ quite recently.
Toit of course, has the best pizza in a 100 km. radius (they're slipping a touch, but still), and a stage that has been dying to be played on. It's set about halfway up a three storey open plan which sets itself up for a very relaxed jam atmosphere. The frontman though, has to end up targeting five to six different audience locations. It is heaps of fun to watch, and I imagine it's an absolute joy to play. What they've entirely ignored: any lighting whatsoever! The announcer keeps calling the event "unplugged". It's anything but for a music school they've sure got some basic terminology mixed up. Semantics aside, we do need more mini-festival type situations. Sunday arvo jam time!
Toit is also quite scattered over the three floors and they've done what I've always hoped someone would do: covered each separate area in speakers so there's sound from everywhere instead of just from the stage. Gives people a chance to spread themselves out and just chill on an overcast Sunday. They even separated sets with some Sufjan Stevens – new music, in a Bangalore pub, you'd have to be there to believe it!
I'd never heard Illuminati before, so the incredible rock-voice threw me entirely off guard. The man packs a punch. 'Joker and The Thief' was close enough to them kicking the door in, breathing fireballs and blowing the windows out. Sadly, they lost track with Porcupine Tree where neither the vocalist nor the drummer seemed comfortable at all. Their own stuff was where they settled back in though. Funk groove, nonchalant vocal line and a guitar midriff that was just tough as nails. I think they may have you believe they also have something to say. The band hiatus finally showed through with 'Roadhouse Blues', which ended up being entirely off, but well, entertaining nonetheless and everybody was happy to sing along to an old favourite. They peaked at 'TNT', where all their dangly bits come together for the perfect storm of no-nonsense rocking like our forefathers intended. They even threw in a super slow bounce version of 'Killin' In The Name Of', and a rock version of  'Come Together' (Beatles again!). If they're really on a comeback I'd watch them again, but they need to buckle down and work at it.
Side rant: There's still a tendency in India to call things "own comps" rather than run with it as a natural part of a show. It's a small thing, but it recognizes the idea that Indian bands writing their own stuff is still out of the ordinary. We're past college festivals; we're all grown up now and can handle new, original music from local bands.
People on the top floor seemed more at ease and on their own trip: the band kept them entertained when conversation slipped. All in all: "This is just, such a cool Sunday evening!"
With Matthew stuck in traffic or otherwise delayed, Naveen picked up bass and toyed around for a solid ten-minute bass solo with acoustic backing. Everybody was really just out to have a good time and Mr. Thomas really can't disappoint. Galeej Gurus setup the way I'd hoped, tall chairs along the front and an added acoustic guitar – a little more personal, connected to the audience and living up to the "unplugged" idea. Matthew took longer than expected though and an hour and a half, a 'Redemption Song' and 'The Boxer' later, you'd be forgiven to believe a late evening family sing-along was in full swing.
And bam! The bassist was in and the whole band kicked in for real. They were doing great acoustic kickbacks of their songs, giving the "unplugged" name some juice. They have been my favourite Indian band for years now, so there's nothing but school-girl like adoration from me. They continually make me want to be a bonafide rocker myself. Nathan oozes cool, even sitting down, and incidentally makes the best burgers in Bangalore (he owns Hole In The Wall, Koramangala). Listen to them lots, and go eat there, I command you!
Acoustic Guitar Man turns out to be a fantastic addition. A superb set of backing pipes and he tears through solos as well. If he's permanent, they're setting up to really do some damage. And if there's anything that would prove that beyond a shadow of a doubt, it's them doing 'Use Somebody' in the middle of the set with the entire, and I mean entire, packed-to-the-friggin'-rafters, crowd singing along. We got through an entire first verse courtesy audience happy-singing.
And Thermal and a Quarter. I think they're an interesting case study. It's very complex music, they've been doing it for quite a while now, and Prakash is only adding more twists: changing old feel-goods into epics, even bordering on self-indulgence but lovable no less. In a city where the single English music radio station puts out the most inane crap the world has to offer with a mere smattering of some golden pop a year too late, it's truly refreshing to have a pub-full scream for smooth sax jazz over Thermal signature anti-gravity blues. The best drummer I know, of course he can play away physics.
Thermal is on quite a metamorphosis, this is the point where you catch all the gigs you can – it's all building to something and you don't want to be missing out. A saxophone really suits them and it looks like they'll be able to have a lot of fun with it, so I hope they can add Sax Man on more often. Or maybe a horn section. Any brass would do it.
The cops turned up at this point. The neighbours weren't fans of any of it and Toit does bump uglies with residential Indiranagar, so I can't imagine this is going to go away easily. There were troubles with an open space – noise spread. Mr. Complaining Neighbour, just wait till the metro starts.
"There's a saying Milo – If it's too loud, you're too old."
Tell me you know what flick that's from.