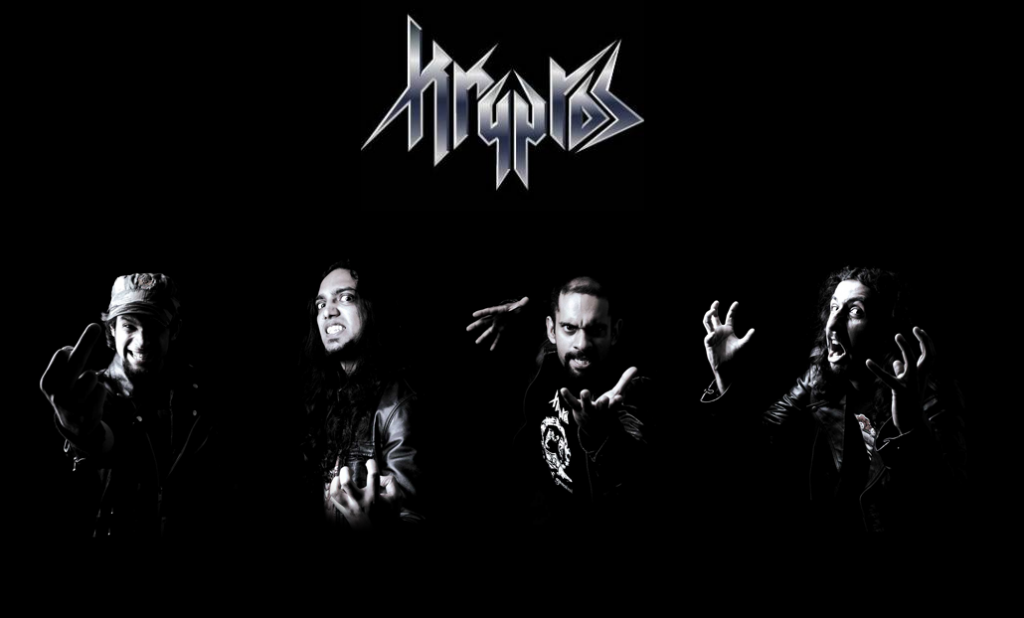 Kryptos is a melodic/thrash metal band from Bangalore. It was formed in 1998 by Nolan Lewis (vocals/guitars) and Ganesh Krishnamurthy (ex- vocalist/bassist). The band went on to release their debut album Spiral Ascent in 2004 and eventually went on to become one of India's biggest Metal bands. In 2008,Kryptos released their second album The Ark of Gemini, under Old School Metal Records. Their music is an amalgamation of aggressive riffing, melodic lines and ambient drumming.
WTS: Tell us about how your band got started and took its first steps musically?
Nolan: The band started around '98, it started with me and our ex-vocalist, his name is Ganesh. We were both classmates in Josephs Commerce College. He had another band, they used to play just covers and stuff, and they needed another guitarist so they asked me. But then that band broke up. Then we decided to do something on our own and we found this drummer from the north-east his name is Ching Len. We had put up an ad on one of our local music magazines and he answered that advertisement 8 months later! (laughs) Luckily by then we hadn't found anyone so he joined us. It was just three of us in the beginning. We used to practice at the drummer's place in Frazer town. It was a really tiny place, a small garage and we had terrible equipment, everything was terrible! (laughs) We were just doing it for fun that time. It was just like a hobby. There were quite a few metal bands back then like Millennium, Warden, Vulcan Haze, Crimson Storm, plus we had the other bands like Angeldust, Thermal and a Quarter etc. who used to play a lot.
Rohit: Around the same time that we started out, bands like Threinody and Myndsnare started. They started slightly before us, and we picked up after that.
WTS: How has the band evolved in terms of band members and how has that affected the music?
Nolan: Our drummer had to go back and take over family business, last we heard he's into politics and stuff. (laughs) Ganesh lasted for quite a long time, he was with us for 8 years, but then had his own priorities and couldn't dedicate enough time for the band so we just decided to part ways. Ryan joined in 2002-2003 and these guys joined in 2006.
Jayawant: November 2006!
Nolan: November 2006! (laughs) Yeah! Before that we had a guitarist called Akshay who was with us for 2 years or so and then he left. When Ryan joined we weren't doing much, we were just playing competitions, playing covers and a few originals here and there. After he joined we started writing more stuff, it started becoming very stable, after we released our first album the other guys joined. Luckily it happened at a time when we could manage everything!
WTS: Was thrash metal a natural option for you to start off with?
Nolan: When we started off we didn't know what we were playing actually. We had no idea what we should be playing. We used to just play covers, and the usual stuff – Iron Maiden, Judas Priest, Metallica. Nobody used to play originals then. Bands that played originals used to get booed. We had originals that we wrote which were pretty bad and whenever we used to play them at freedom jam and stuff people used to boo us, throw stuff at us, quite sad! (laughs) Back then we had very different preferences, I was more into thrash, Ganesh was more into blues, hard rock AC/DC stuff, our drummer was more into progressive music.
WTS: Were there other genres of metal that fascinated and interested you?
Nolan: Yeah, there was a point in time when Cradle of Filth and bands like that were really big in Bangalore for some reason. We also tried our hands at that, just to see how it goes. Back then we didn't have a certain style, nothing. We even got a keyboardist for some time to see how it sounded. But then later on we figured out we're no good at it! (laughs)
WTS: What bands could you consider as some of your influences or inspirations? Would you say that some of those influences are visible and can be tracked down in Kryptos?
Rohit: I hope that doesn't happen! (laughs)
Nolan: Actually the good thing about our music is that our influences are all the old bands but we also put in some of the extreme types of music like doom, little bit of thrash, death metal here and there, so it's like a mix. It sounds familiar but you can't exactly pinpoint.
WTS: Are there any Melodic/Thrash Metal bands that have inspired you?
Nolan: Not really. The thrash bands weren't that big of an influence. It was more like the 80s bands like Maiden, Priest. Maybe you could say Dark Tranquility was a big influence because they mixed death metal with the 80s metallic stuff. So, Dark Tranquility, In Flames and bands like that have definitely inspired us.
WTS: Could you tell us about your music making process?
Rohit: What we do is sit down and jam and whenever a song is good to our ears, we usually keep that. Let's say Nolan has a riff, Ryan comes with a rhythm backing and if it sounds good to our ears then we build on it.
WTS: What are your rehearsals generally like? Do you guys have a set time during the week for that?
Ryan: We usually jam at 6:30 in the evening and it has worked out really well for all of us because even though these guys are working they put in a bit of effort and finish their work by 5:30-6:00. All of us make it for practice at 6:30. This happens every week, unless we have an interview or something! (laughs)
WTS: Tell us something about the releases you have had so far and what kind of plans you have for your future releases?
Jayawant: We got 2 albums down so far. First was in 2004, before Rohit and I joined the band; that was the old line up. With the new line up one of the first things we did was come up with new material. We recorded our second album in 2007 and finally launched that in 2008. We are currently working on our third album that we plan to record in February and hope to launch in March next year. We are experimenting a little with the lyrical content. As far the music goes, we'd like it to be more melodic, but we wouldn't like to deviate from what we have already established as our genre.
WTS: How much has internet helped to get your band name around to people's lips? What are some of the disadvantages of the internet in your opinion?
Nolan: It's probably the most important factor in getting our stuff out. We actually had a tough time. The internet started becoming a useful tool only around 2005-2006. For the first seven years or so it was very tough. There weren't any cellphones back then. At that time we didn't know how to get in touch with people, nobody knew we existed. It was very difficult unless someone actually sees you. We only had landlines! If they had to call us we had to wait at home and wait till they call us. Of course, the main disadvantage is the downloading. Some bands don't give their full album for download. They may give two or three songs. But now its picking up and people are buying a lot more CDs but college kids are the ones who usually download stuff. It's alright to an extent because the music gets places, but it hurts the bands because they don't make any money from whatever they invested in the first place.
WTS: What are the key elements of your sound?
Jayawant: A little bit of Lithium and Potassium…
Nolan: All the metals (laughs) Of course, the most important element is melody. Our songs have to have some melody, have some catchiness to it. There's no point taking a bunch of riffs together, if it doesn't make sense. We try and balance out the melodic stuff with the aggressive stuff, that's exactly what our sound is actually. Back then most of the guys used to listen to old bands and stuff but now because of the new bands that are coming out, they are getting more brutal and aggressive and the audience is of course tuned into it. But today a lot of them are getting back into the old stuff. They get into that and start working their way backwards.
WTS: What is the most challenging and hardest thing for you in terms of song writing?
Ryan: Sometimes one of us has an idea, and we share it with the rest of the guys while jamming and then it is just inspiration and spontaneity. We just try different stuff out and we work it by ear. Sometimes a song works itself out. If you're having a bad day you have to keep doing it over and over again, that is the tough part. When it's a good day, we get it in just like one or two shots.
WTS: What are the main themes/topics in your songs? 
Nolan: We are not a death and destruction sort of a band. That's too clichéd, that's a stereotypical image that people have. For our first album Ganesh wrote all the lyrics and he had this very abstract way of writing lyrics. We tackled a lot of subjects like child abuse, sci-fi stuff and things to do with philosophy – he was totally into philosophy and stuff. For the second album, I started writing the lyrics. I'm very anti-religion, anti-politics, so those were some of the topics, mythology and a lot of environmental stuff too, there's one song which deals with what the world will end up like if people continue to destroy the environment.
With the next album, the concept is a little weird, is sort of occult based and how it fits into the global scenario. Who is actually behind the scenes? Everyone thinks there's good and evil. There's God, the Devil, and the man stuck in the middle. But the next album is about how evil actually controls both sides. It's like, God and man are puppets of the Devil. But he himself is the puppet of someone else who nobody knows. This kind of answers the question, why do so many bad things happen in the word and if God was actually there then why he doesn't do anything about it? So he pretty much doesn't exist. He is actually a creation of the Devil who himself is the creation of somebody else. (laughs)
WTS: Your last studio album 'The Ark Of Gemini' was released in 2008. When are you planning to record some new material?
Ryan: We are planning on recording the third album in Feb. I personally, want to get everything right this time. So I don't mind taking the extra time and effort when it comes to practicing and of course, finding the right studio, getting the right sound, getting the right sound engineer and figuring out how much it all costs. I just don't want to do the album and let it die down. Together all of us are planning things in such a way that we can do an album and start touring after that, and get shows so that everything works out in a sequence.
WTS: Tell us all about your tour across Europe. Was your music well received?
Jayawant: The tour… they were pleasantly surprised. What basically happened, was people expected something very Indian to be delivered as a part of our performance, but when they saw that it was genuine old school stuff, for a lot of the older guys it was a feeling of nostalgia which made them come right to the front and head bang, and for the younger crowd even though they were into different genres of metal they were still able to appreciate this as being something true and genuine. We got a fantastic response and got great feedback to the extent that they want us back again next year. Three different tour managers were interested in having us back there and play in a different set of clubs and festival venues. The response was really encouraging. It's only the question of us saving up money so that we can go there and play again.
WTS: You're the first Indian metal band to be signed by an International label. How did that happen?
Ryan: It happened because Nolan spent a lot of time on the internet!
Nolan: Actually back then we didn't know much about labels. I had a fair idea about who would be interested,. Write up of our babnd and stuff. The name was Old School Metal Records and it was very obvious that that. This is how it used to be done, they were pretty impressed. They liked the music straight away. Next thing you know they're sending us a contract.
WTS: Despite being the biggest Indian metal band and having an international label, why do you think it's been generally hard for you to sell records overseas? Is it mainly the lack of touring?
Nolan: The main thing is the media exposure. You need a lot of marketing, promotion. The label that signed us is not that big a label. Their distribution reach is pretty limited. There's a lot of work that can get people intersred, a lot of hype that goes into actually promoting a band out there. A lot of our CDs got sold over there, so it worked out quite decently.
WTS: How important is interaction among bands in India, do you think it's necessary?
Ryan: It is necessary because when we started out all of us used to help each other, passing on a show to somebody else which you couldn't do. Everybody used to do that. As far as I'm concerned I still do that. People have more attitude now, or…I don't know! I'm pretty much in touch with everybody . Especially Rohit and Nolan… these guys make it a point to meet other bands and stuff like that.
WTS: What do you have to say about the current metal scene in India?
Nolan: They all split up. That's a big problem actually. Bands get disheartened easily and there's a lot of societal pressure. So bands crumble to that pressure.