Akash Kaul
Akash Kaul
Akash Kaul
Akash Kaul
Akash Kaul
Akash Kaul
Akash Kaul
Akash Kaul
Akash Kaul
Akash Kaul
Akash Kaul
We all have been to at least one terrible NYE party – one you knew was going to be horrible but your parents dragged you there anyway. And once you got there, you knew from the very first second why you didn't want to go. E Zone on the 5th of May was exactly like that. You couldn't put your finger on what was wrong – because there was so much that wasn't right at what should have been an evening of celebration. However, it lasted only until Fatboy Slim came onstage.
The sun was out with its scorching heat. There were hardly any people at the surprisingly spacious venue and it didn't look like many more would turn up. The music was very passive and impersonal – a score to a family picnic; the crowds reacted quite poorly to some good sets by both Tuhin Mehta and DJ Ivan.
But all that changed at 7.45 p.m. when Ivan chopped out Lana Del Rey's 'Video Games'. What I witnessed then was nothing short of miraculous. Was it the lost-now-found upbeat tempo? Or maybe it was the booze kicking in, accompanied by the realization that Fatboy Slim was going to be on in fifteen minutes? Either way – the crowd exploded and, as hundreds moved in unison, the party finally came to life.
Norman Quentin Cook, loved and adored world-wide under his stage name – Fatboy Slim, is regarded by most as the Godfather of commercial EDM as we know it. The British legend who gave us 'The Rockafeller Skank', 'Weapon of Choice', 'Star 69' and a whole host of dance numbers brought out the Bangalore party animals to E Zone in such numbers that night. He hasn't released an album since Palookaville (2004) but with so many unforgettable tunes on his CV, Fatboy Slim is a name that won't be forgotten anytime soon.
Waving his arms, he walked onto the stage to roars from the crowd. His reception was worthy of a man who holds a star on Brighton's Walk of Fame, right next to that of Winston Churchill. Dressed to chill in a colorful shirt-and-shorts combination; his attire and demeanor showed how much at home he felt.
Kicking off his set with a short from 'Star 69′, he got into the crowd's head using three simple words on loop – 'What The F@%$'. Everyone at E Zone that night felt the eventual explosion coming, and geared themselves to completely let go. What followed next was sheer blissful madness. Norman jumped in the air, perfectly in sync with the beats kicking in – and the crowd crashed against the barrier, moving as one gigantic being.
The first few songs were all high tempo club hits from the recent past; you could see that Norman had done his homework. He knew what his audience would love most. Singing along to 'Clubs' and then 'Who is Ready to Jump', Norman then took the energy levels through the roof with his signature dance step – the fist pump. Introducing lyrics from 'Put Your Hands Up In The Air' to complement his very scratchy yet funky mix, the crowd followed suit imitating him move for move.
Mixing it up really well, he then dropped the bass altogether as he slowly faded in 'Where's Your Head At?" another sing-along tune that had the crowd at his mercy – eyes shut, heads tilted back and screaming into the night sky. Some more high tempo tunes followed suit with 'Let the Bass Kick' and 'Let's get This Thing Started', but one of the highlights of the night was his almost gothic fade out on 'Up' while spinning in 'Right Here, Right Now'– a Fatboy Slim anthem. As the crowd chanted along, he looped these famous words over a symphony devoid of any beats, tunes and bass – and as the words resonated over space and time, you knew you had witnessed something special.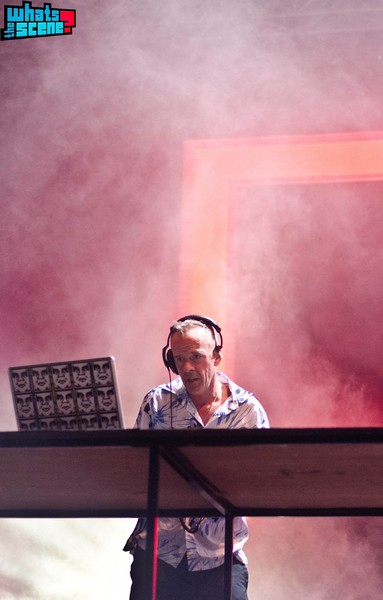 Keeping true to his Hip Hop roots from his early days as DJ Quentox at Brighton, Norman took the crowd to funky town with an absolutely legendary track in 'California Love'. It was that WOW moment that differentiates a good gig from a great gig. The crowd was more than eager to take a break from shuffling, and put on their hoodies to go all out 'Gangstah'. The 'Diego to the Bay' loop breaking into 'Get Naked' was seamless and well mastered to the point that no one realized the track had changed.
Midway through his set, the 3D laser kicked in – green and red lights that moved beautifully with his mix of 'Something's Got a Hold on Me', putting the crowd into a trance-like state. He barely touched the deck for this number, sharing the out-of-body experience with his audience.
From the tuned-up, pacey 'Rave N' Roll' to the slow and smooth funky electro of 'Rockin' High', Norman demonstrated maturity by controlling the tempo throughout the night, building it up for a great finish. He caught the crowd off guard by mixing in 'Bohemian Rhapsody' to open one of his all-time famous numbers in 'Sunset'. We loved him for this; he'd figured us out perfectly. We love our singalongs even in the middle of an EDM beat-fest!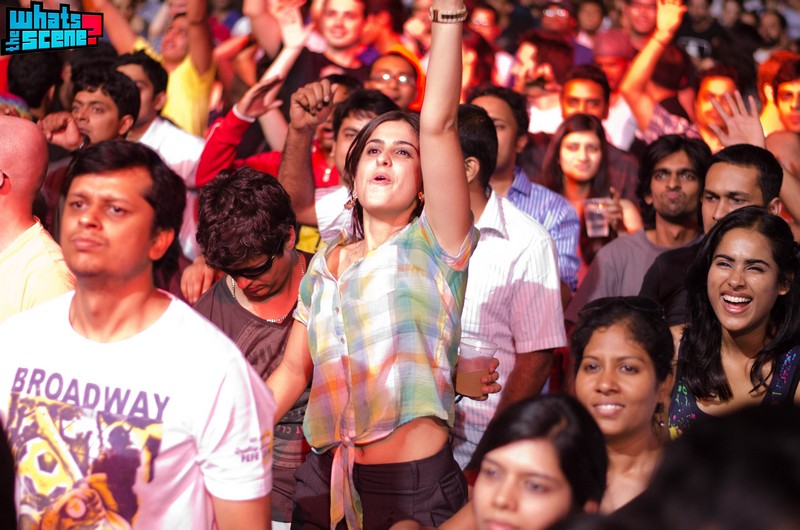 Keeping up with the singalong mixes; 'I'm Coming Home' gave way to what was to be the end of a fabulous night – back-to-back Fatboy Slim legends in 'Praise You' and 'Star 69′, with a fade out to 'TheRockefeller Skank'. The crowd howled their appreciation for a man, a legend, who had for the first time ever brought down his one-of-a-kind EDM style to this country. 
TLDR? It was a night of private ecstasy where true Fatboy Slim fans turned up in respectable numbers to revel in the glory of his trademark sound. Edgy fade-ins giving way to legendary tracks had the crowd thumping to the heavy basslines and moving wildly to high-tempo singalongs. A blast from the past, Norman had these party people hypnotized. They wouldn't stop moving till long after the curtains were drawn on a night we'd never forget. 
We've come a long way baby, but we're still Halfway Between the Gutter and the Stars!