After its initial success at Ion Bar & Kitchen, less than two months ago, Insurrection returned with its second edition, welcoming Tinga Tinga Bar (previously known as Couch) to the world of death metal. The line up comprised of the most mind-boggling metal bands –  Necrophilia, Festered Wound, Shepherd, Xector, Orchid, Nihilus, Trojan Horse, Dark Desolation and Neolithic Silence all at one stage. As the day progressed to night, minimal lighting contributed to the dark ambience, enticing the metalheads to headbang and mosh throughout.
"One of Bangalore's most brutal heavy metal shows" began with Bangalore based experimental death metal band, Necrophilia infecting the crowd with its vacillating tempos and time signatures. Avinash's ruthless high pitched growls in combination with Shelton's speedy double bass drumming got a man in a wheelchair out of control. Though the band faced problems with their guitar, the fast paced drumming did not allow the mishap to dawn on the people around them. Necrophilia's performance was a great kick-start for the night, despite the existing daylight outside.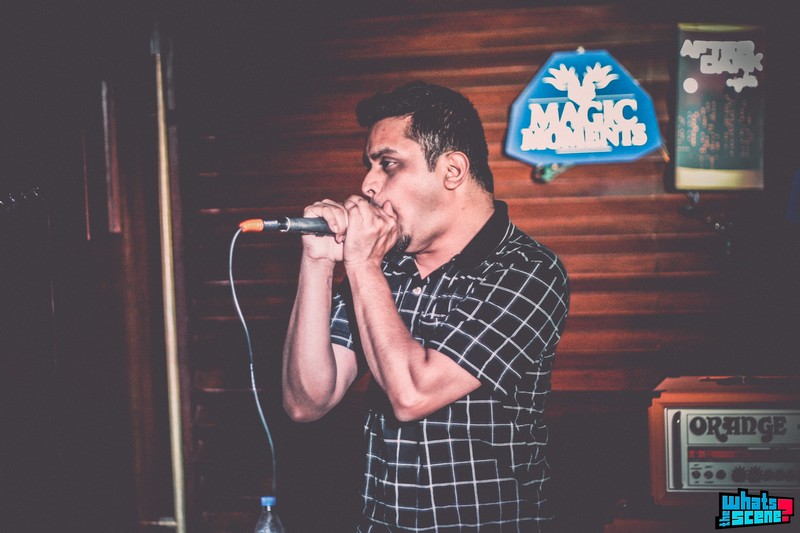 Necrophilia was followed by gore-spewing Festered Wound, with a set list of songs that were less than a minute long. Heavily influenced by Last Days of Humanity, the music disgorged a fall and rise effect, spiralling from nothingness to utmost beastliness. With the aid of programmed drumming, Charlie's vocals spoke volumes about the nastiness of gore. They most definitely are one of India's vilest goregrind bands.
Spotted amongst the crowd was Dying Embrace's Vikram Bhatt, thoroughly enjoying himself as Shepherd entered the stage. This sludge metal band sure knew how to pull off a great gig, progressing from slow tempos to heavy riffs. Namit's growls characterized by a melodic strain, with Deepak's dexterity with the cymbals and Michael's bass produced a combination of doom metal and hardcore punk that kept the audience in constant trepidation. Deepak's vocals were clean with a medieval touch, with simultaneous blast beat drumming. Overall, it was quite a tight performance.
What the bands lacked was crowd presence, and those that followed Shepherd hit the bull's eye. Xector spurred a moshpit with its variety of song structures. People were in a continuous mosh, as Charan's deep growls, Ashwin's powerful double bass and Ashutosh's and Suhas' tremolo picking contributed in giving the performance an intense feel. All that aside, the bridges produced a captivating effect.
Orchid cast a 45 minute spell on the people, by putting them in a state of trance. This band that won Strawberry Fields 2012, retained its technical brilliance at Insurrection. They do not identify entirely as a metal act, but have surpassed all boundaries with Rahil Ahmed's prowess on the bass and Vinay's sheer sagacity with the guitars. Kaushal was exceptional at using two microphones, alternating with his vocal style and the usage of shakers. Towards the end, drummer Mayur was joined by Kaushal's emphatic beats and deep growls. Unusual time signatures, complex rhythms, technicality and a good setlist define Orchid's performance.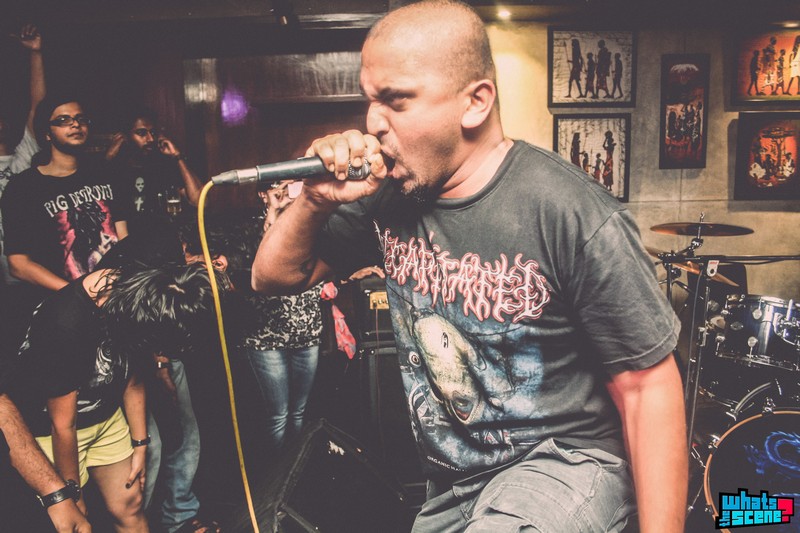 The pit came back to life when it was technical death metal band, Nihilus' turn to perform. Unusual rhythms, out of the box time signatures, catchy riffs and complex song structures discharged a remorseless atmosphere, aided by malicious double bass patterns. The six string bass guitar was definitely done justice to by Jason. The band covered Necrophagist, Behemoth and Decapitated, keeping everyone on their toes throughout.
Though Chennai based Trojan Horse took their time for setting up, their performance was worth a wait. The music bred a deadly and merciless hue of red, and never ceased to awe the people around. Vishnu's powerful, speedy drumming with Siddhartha's and Hasnain's alternating lightening speed riffs and solos drove the crowd mad. Their music was characterized by rapid key and tempo changes, which went way past the crowd's ability to headbang. The band covered Meshuggah's 'Perpetual black second' which was in a class all by itself. A general survey inquiring of people's personal favourite band pointed to Trojan Horse.
Just as the lights went out, Dark Desolation began their set. Wisps of relentless, ruthless black smoke bewitched the air. Their look was reminiscent of "Kiss" as the vocalist and guitarists made their presence felt with corpse paint and spears. Once they started playing, it seemed like their songs were in a continuous loop. The vocalist was sprawled on the floor behind the guitarists with calescent high pitched growls, shedding light on the guitarists' terminal velocity. Their tremolo picking was like a bat out of hell. Speedy blast beat and double bass drumming was top notch, but the only drawback was that they ate into the next band's time.
Though problems with time management resulted in quite a number of people leaving the venue, Neolithic Silence earned their set of well deserving fans that supported them. Utilizing elements of death and thrash metal, the band put forth an outstanding performance. A combination of death growls, fast riffs, and the blend of harmony and melody was enough to keep the audience headbanging and raising their horns the whole while. The drumming was very tight, and provided vitality to the band. They celebrated their 10th anniversary by inviting their special guest, Navneeth from Nihilus to do vocals. And once it began, not a single person was standing still! On popular demand, the band played one last song, which was a perfecting ending for the night.
Problems with time and sound persisted throughout, and the repercussions had to be faced by the bands that were playing towards the end. Despite that, the good line up, great ambience and the energetic crowd filled the missing gaps.