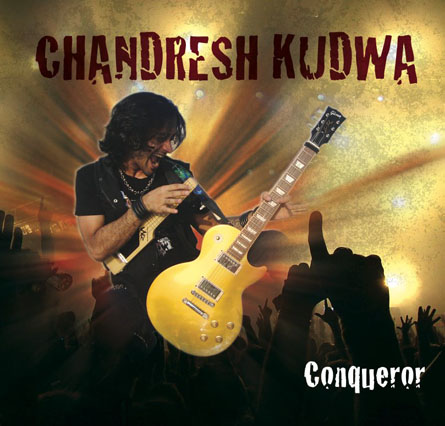 Most of us know who Chandresh Kudwa is. In fact I'd wager that anyone who's been to an Axe-tortion gig was at some point befuddled by the dexterity of his flying fingers and his ambidextrous simultaneous playing of both guitar and ukulele. And since there aren't very many people around doing that, this was a highly awaited CD release.
The album starts off with the title track 'Conqueror'. A mid-tempo chugging rocker, it immediately re-introduces (if you've heard Axe-tortion LIVE) the tone and contrast of both instruments. Some sloppy playing aside, the song does its work in setting up the album sonically. The electric ukulele sounds quite sweet even though some people would say it's not true tone, I didn't mind it at all.
'Fighting Spirit' starts with Chandresh's simple but effective riff-work. If you've listened to much of Dream Out Loud (Chandresh's ex band) it's simple yet catchy riffs like this one that always made their way to his guitar – overall a nice song.
I don't know why but while listening to 'The White Door', I was picturing Irish hard shoe dancers tapping away, and the beat of the song actually has a Spanish flamenco feel to it… go figure! I guess all this seasonal drinking has me favoring the Irish. The Ukulele shines on in this one and Chandresh's Spanish playing is more than fitting.
The next song called 'Blanket of Stars' starts off with a sweet guitar layered with rotary effect and ukulele. It has a kind of Indian touch to it – mostly a filler song.
'Princess' features a different feel completely from everything else. The song is a slow melodious one with a gated snare sound – reminiscent of something from Phil Collins' work from the eighties – and an effected guitar backing the song's chords. The guitar work is melodious and a clear effort has been made to stay away from the fast legato work that Chandresh is known for – great tune!
I heard 'G-Uke' live for the first time and was blown away. I mean I know a lot of people call it a trick or "show-sha-giri" but I'm sure it takes a lot of effort and talent to pull of playing two instruments simultaneously. The tom sounds great and really brings in an earthy feel to the song. Too much of fast playing for my taste but I'm sure shredders everywhere will appreciate it.
I was looking forward to hearing 'Good Life' which features Mattias Eklundh of Freak Kitchen fame. The song is high on energy and something that would make you want to kick your knees high in the air and do a jig. I can add this to my treadmill playlist.
'Un-silenced Majority' starts off with some tapping work and moves into a 7/4 groove. The Ukulele shows up suddenly after a much missed gap – a very slight and tasteful use of the whammy bar.
As I was listening to the dreamy soundscape of 'Edge of My Emotions' I couldn't help streaming images in my head of friends and family that I had lost recently. The song is an outpouring of Chandresh's own loss of his father and is a beautiful tribute – a perfect way to close the album.
Production-wise the album is great – all instruments and effects are mixed and mastered well. The guitar playing is consistent with what you hear when you watch Axe-tortion live and the guitar tone is great throughout the album if a little monotonous at times. The Ukulele is a beautiful instrument and works well in contrast to the fast and screaming guitars. The concept itself is quite original and The Conqueror is a great second solo effort from a well established and talented guitarist.