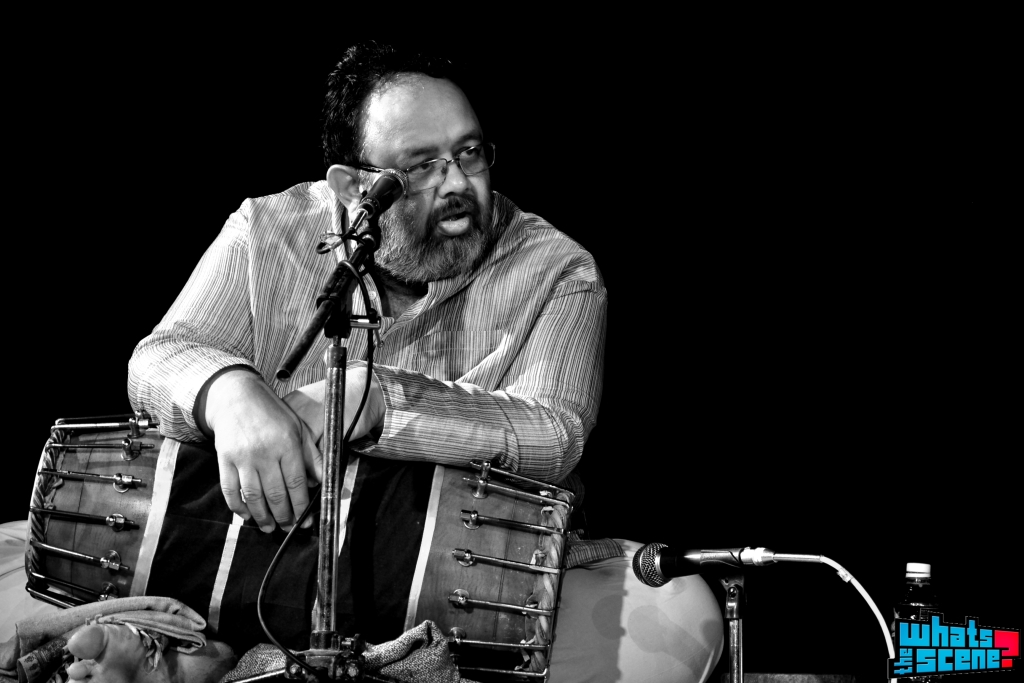 "What is this jazzu bluesu, I say? In my Carnatic sangeetham?" – Anonymous
There are purists in every music form, and in fact, in every art form. Carnatic music has historically been a purist art form untouched by experimentation but in the last few years, there has been a dramatic increase in the number of Carnatic musicians, surprisingly being led by the virtuosi, who are trying to evolve the centuries-old music and fuse it with modern sounds, under what can be called fusion or world music.
We all know Dr. Suma Sudhindra to be a veena virtuoso and a maestro of Carnatic music, but apart from her regular Carnatic work, she has also been experimenting with western sounds, most notably through her collaboration with Holland's famous Spinifex Jazz Orchestra. The end result is an exciting hybrid form of music consisting of the melodies and complex rhythms of the East adorned with the chords and harmonies of the West.
Precisely at 7:00 p.m, Dr. Suma Sudhindra's ensemble consisting of Anooru Ananthakrishna Sharma on mridangam, Pramath Kiran on congo/morsing and, of course, Dr. Suma Sudhindra on the veena took to the stage. It was an intimate little gathering of not more than a hundred people in the Alliance Française Auditorium, consisting of young and old alike.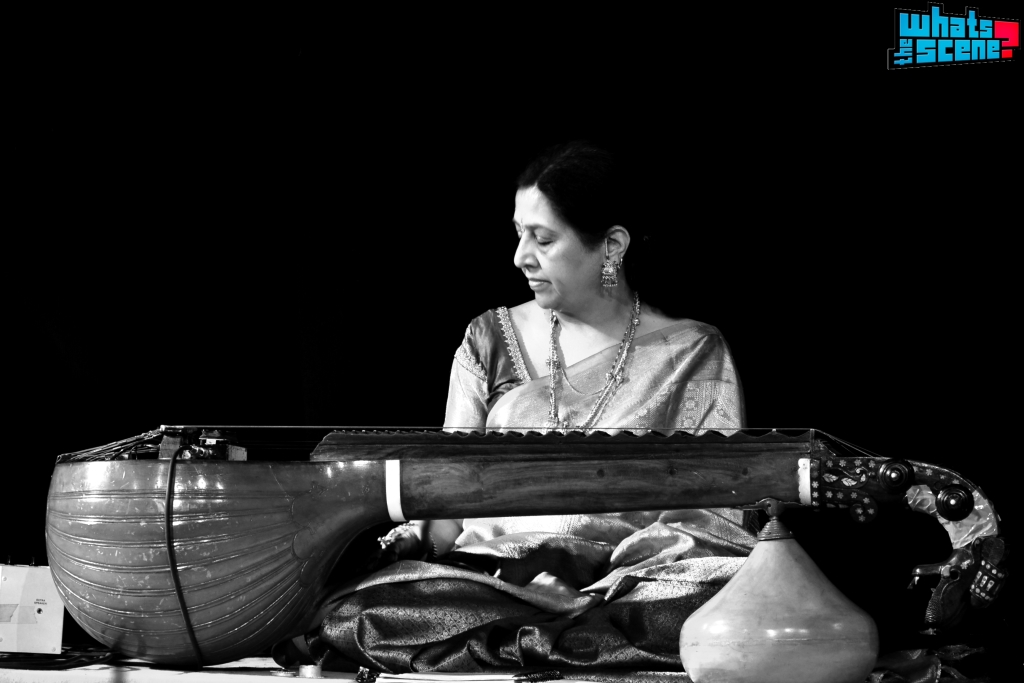 The Carnatic ensemble opened with two classical pieces in the traditional Carnatic style. The first one was in Kunthalavarali Raga and in a time cycle of 5, a rather short piece that probably served as a warm-up both for the musicians and for the audience's ears. The second piece started with an alapana on the veena. It wasn't hard to catch the little hints of 'Samaja Varagamana' and as expected, it moved into the Tyagaraja Krithi with the percussionists joining in. Unfortunately, Dr. Sudhindra's veena suddenly went out of tune just as the song was gaining momentum and they had to pause for a while. Unperturbed, she quickly tuned back and they continued with the Krithi but wrapped it up without too much improvisation.
Next, the Spinifex Orchestra, consisting of Ned McGowan on flute, Tobias Klein on saxophone, Joost Buis on trombone, Dion Nijland on bass and Uli Genenger on drums walked up on the stage and gave us a taste of their music. They started their section of the concert with 'Indian matters'. McGowan started the proceedings by playing one line on the flute before the saxophone and trombone joined in on successive bars to gradually create a rich harmony. A walking bass line and soft, albeit intense drums kicked in and made it clear to the audience that this was going to be an interesting evening. Their next song 'Montebello' opened with each member of the band successively playing just a note or two and abruptly stopping as though interrupting each other. What sounded wacky and humorous at first, on building up further, turned out be extremely intricate and precisely played, showing their technical prowess and compactness as a band. The theme then led into a saxophone solo on 7/4 and the song ended with more "musical interruptions" than others.
After all the buildup, it was time to mix and fuse. The actual fusion part of the gig started with 'Appa', a delicious mix of both worlds. Klein on the saxophone and Dr. Sudhindra took turns to play solos, playing only a couple of bars each time, with Klein playing on 7/4 and Dr. Sudhindra on 6/4. It sounded almost as if they were having a conversation with each other, each speaking the same language but with a different accent.
The next song was in Raga Bihag and on a time cycle of 11. It was in this song that the percussionists really came alive and set the tone for the entire evening. And from then on, the gig was ruled by percussion and the ridiculously complex rhythms that they played. The song effortlessly drifted from time cycles of 11 to more challenging ones that I honestly could not count! It ended with a bol jugalbandi between Pramath Kiran and Anooru Ananthakrishna Sharma that left the Spinifex members in awe, and a brilliant bass and drum solo, also on 11, that had the veena ensemble in awe. Needless to say, the audience was blown away!
'Papadaming' (cool name, huh?) started with a melancholic alaap and slow altered sounding harmonies. A beautiful veena solo ensued with a great bass line, but on a shocking time cycle of 17! Limited by only 10 fingers, I struggled to count, though the musicians seemed to be going about the song like it was nothing! And let me add that it is one thing to play a repetitive progressive riff on such time signatures, but improvising so soulfully and effortlessly on it is a completely different matter. It takes nothing less than a lifetime of dedication and practice to pull that off.
The next piece was in Karnaranjini Raga. This was the first time we saw Uli Genenger open up and play some really loud and proud funk-sounding beats. The trombone and flute solos were outstanding and did well to match Genenger's energy. This slowed down and gave way to a more relaxed veena solo. At some point during this song, many members of the suited-booted and apparently intellectual audience started taking out their cell phones and clicking pictures and shooting videos with the same excitement as that of the teenage fans at a rock concert. I believe that moments like these deserve to be preserved, no matter who you are or what kind of concert you're at!
And now coming to my favourite part of the concert- the long jugalbandis between the percussionists! It started with a bol again from Pramath Kiran and Anooru Ananthakrishna Sharma. This was followed by a mridingam solo and a surprisingly rich sounding morsing solo from Kiran that showed the audience how versatile the usually undervalued instrument really is. A drum solo ensued that was embellished with South Indian rhythms. It was lovely to watch the Indian percussionists grooving to the drummer's beats and the members of the Spinifex Orchestra diligently counting thalam in the traditional way.
The concert ended with two very well-known classical pieces, 'Krishna Nee Begane' on Yamana Kalyani Raga and Balamurali's thillana on Brindavani Raga. The interesting thing was that McGowan and Buis played the major part in these two songs, complete with gamakas and all the little nuances of Carnatic music. They had evidently done their homework well, and Dr. Sudhindra was visibly impressed with their solos. The final crescendo ascended and descended the raga as it built up speed and ended suddenly and loudly, to a roar of applause and a standing ovation.
I can't tell whether it was the similarities between the two music forms or their differences that made this turn up so well. But it sure was an awe-inspiring concert and really proved that music is a universal language. I loved the impression that the musicians weren't trying to outdo each other but were trying to share ideas with each other. One thing I would have liked to see was to have Jazz influences even in the veena or mridingam. It would have been nice to see Bossa Nova or swing beats played on Indian instruments. It seemed that the Spinifex ensemble took the effort to learn many Carnatic concepts while the veena ensemble simply incorporated their music into their own. But then again, that would probably be the next step in Fusion music, and I hope that it goes further down the road.