Let me preface this review by saying that I have been a GNR fan for the longest time. I was lucky to get a copy of 'Appetite for Destruction' at the age of 9 and there was no looking back. Though my musical tastes have become wide and varied over the years, I still consider Appetite to be one of the best rock albums ever produced. It has inspired several generations of musicians and has stood the test of time. Let me also preface this by saying that I am fully aware that the current lineup of GNR does not include Slash, Duff, Izzy or Steven. I had mentally prepared myself for the same, dropping all expectations. Yes, GNR is not GNR without Slash and he is the reason why many (including me) started playing the guitar. However, that should never come in the way of enjoying good live music.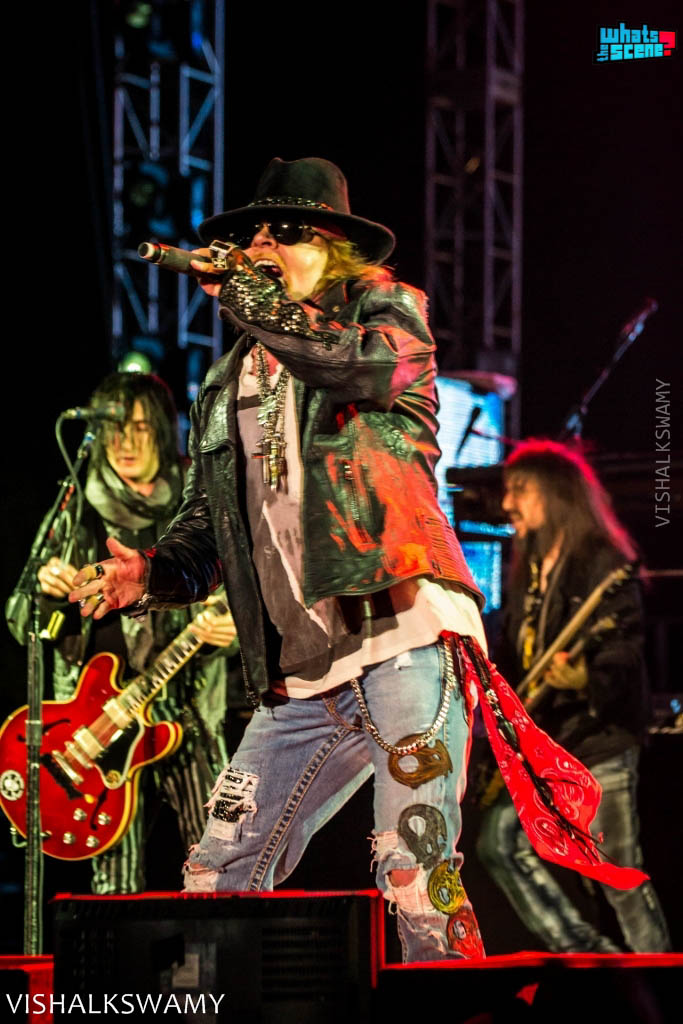 A few years back, I would have never in my wildest dreams thought of watching GNR live in India (with whatever lineup) from the front row and I thank the band for coming out here. I advise everyone reading this review, and retrospectively all those who attended the concert, to keep this in mind. There is nothing more annoying than somebody in the audience shouting, "Bring out Slash!" after every song. There is nothing to be gained by comparing the present lineup to what GNR was at its prime in the 80's. To state the obvious, the only remaining members of the original lineup is Axl Rose. DJ Ashba, Ron "Bumblefoot" Thal and Richard Fortus have taken over guitar duties.  Use Your Illusion era keyboardist Dizzy Reed, Bassist Tommy Stinson, drummer Frank Ferrer and keyboardist Chris Pitman complete the lineup. The concert took place at Bhartiya City on the 7th of December 2012.
Bangalore Rock pioneers Thermal And A Quarter kicked off the show with a really tight set. They played some old tracks and some new from their recently released Three Wheels Nine Lives album. As usual, they burned through their set effortlessly and got the crowd warmed up. I was happy to hear their cover of 'In Bloom' which they haven't played for some time. The crowd then waited eagerly for GNR and boy did the audience get wild when Axl casually walked on to the stage.
And a second later we're hit by 'Chinese Democracy', a really cool track from the post Slash period. The first thing I noticed about GNR was their massive sound. Crunchy guitar tones perfect for riffs like the one in the beginning of 'Chinese Democracy'. In terms of sound and production this gig was only second to Roger Waters Live in Bombay (2007), for me at least. The band spared no expense and all their equipment was shipped down, including two pianos and even the small stage used to raise the drum kit. The opening riff to 'Chinese Democracy' made it clear to me beyond a shadow of a doubt that this would be a concert to remember.
Apart from their infamous wall of sound, the musicians themselves were extremely talented. Each of the three guitar players has a very unique style and are brilliant musicians in their own right. I also appreciated the fact that when they played the old classics, they were played exactly the way they were recorded. I mean, there is nothing really to improve on these tracks, pure nostalgia trip.
The band went on to play old classics interspersed with some newer compositions. 'Nightrain', 'Live and Let Die' and 'Rocket Queen' stood out for me. These tracks sound great on tape but they sounded insane live. I could really feel the band's energy when they were playing these tracks and it really got the old school fans going. Tommy Stinson, with his punk influence did justice to those songs and drummer Frank Ferrer didn't fail to impress. Axl Rose has done a fantastic job of finding phenomenal musicians to fill in really big shoes, which were never meant to be filled.
Of course no GNR gig would be complete without the more popular tracks like 'November Rain' and 'Patience'. 'Sweet Child of Mine' was almost entirely drowned for the most part by the audience singing along. Keyboardist Chris Pitman was a pleasure to watch, great stage presence.
Many people have criticized Axl Rose for not being the vocalist he used to be. To be honest, doing what he is doing and for this long, it is a miracle that he can still sing and put on a great show. He might not have the energy that he had 15 years ago (who does?) but he can still kick some ass. It was evident that he was giving it his all like a true musician would, especially during the heavier tracks towards the end of the set. I was amazed to see that they put on a complete 3 hour set! International acts of the same caliber that are coming to India for the first time, or even after a long hiatus and do not plan , should not leave the audience after short set, playing only their popular tracks. GNR took me on a trip down memory lane and they pretty much covered all their albums.
GNR didn't just start with a bang but keeping to the GNR ethos, ended with one that was louder. The concert came to an end with a cult classic – 'Paradise City'. I was happy that they chose this track as their final act and not 'Sweet Child o' Mine'. The whole band for this last track and it was intense. Axl did a really good job on this one. To top it all off, during the breakdown of the song, the audience was doused in red confetti. You had to be there. Sophisticated writers don't say this often, but it was really fucking cool. After the audience had a few minutes to calm down, the band came out to thank us for being wonderful hosts. Axl's parting words 'Stay away from the popo (police)'.
The organizers could have done a much better job of the concert. It took us nearly 2 hours get our car out of the parking lot onto the main road (with a couple of dents) even though there wasn't a spectacularly large audience present. But other organizers have set low enough standards and people didn't seem to bother after such a killer show.