Siddharth Nagarajan
Siddharth Nagarajan
Siddharth Nagarajan
Siddharth Nagarajan
Siddharth Nagarajan
Siddharth Nagarajan
Siddharth Nagarajan
Siddharth Nagarajan
Siddharth Nagarajan
Siddharth Nagarajan
Siddharth Nagarajan
Siddharth Nagarajan
Siddharth Nagarajan
Siddharth Nagarajan
Siddharth Nagarajan
Siddharth Nagarajan
Siddharth Nagarajan
It was a pleasant surprise that the second edition of the TrendSlaughter fest was going to be held barely ten months after the first. Unlike a majority of the smaller metal gigs held at Bangalore so far, TSF comes across as an excellently organized one. The billing was great – 4 local and 2 international acts, all chosen to make sure that a lot of different genres, spanning across the spectrum of metal were on the table – they had everything from sludgy doom to thrash to old school death to grind. The stellar line-up consisted of Djinn & Miskatonic, Dhwesha and Gorified providing support to the headliners – Cauchemar, Dying Embrace and Abigail. The organizers, Cyclopean Eye Productions, were not one bit cheeseparing when it came to the nitty-gritties like having nicely printed tickets and posters. Other things like having pick-up points for the tickets, the excellent merchandize stall, starting the gig more or less on time and finishing it on time, were much appreciated as well.
All the bands, with the exception of Djinn & Miskatonic and Gorified, had something for the merchandise section. Dhwesha had a new tape (their very first release) along with a new poster featuring the album art, Dying Embrace also had a new poster and a DVD featuring a few songs from their previous performance at Riff 'em All, Cauchemar managed to bring CDs and patches of their debut album and Abigail had stocked a fair number of albums on both CD and Vinyl.
The first band on the bill was the unorthodox Djinn & Miskatonic, playing their eerie brand of doom which, while many may not be accustomed to, caught the attention of the slow trickle of people turning up (that and, possibly, the lack of a guitarist).
The slow, lumbering elephantine riffs, the droning vocals and massive drumming worked really well. All the four songs they played that night (including the new '7-year Itch') sank in well with the crowd. If only they had added some cool background art, better coordinated lighting to their creepy, muddy doom they would have been a real treat to watch!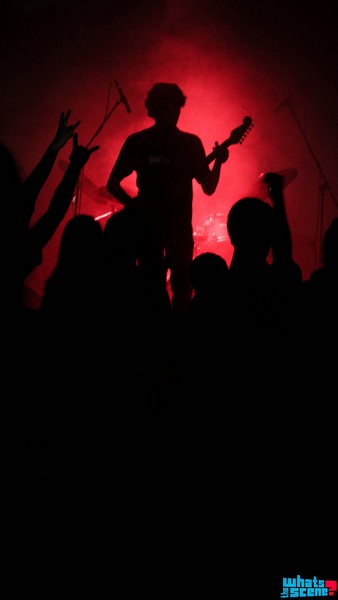 Dhwesha took stage right after and ploughed right into their set. Even though the band has had only two prior performances to their credit, they certainly know how to put on a show. There was a marked improvement from their previous gig, notably with respect to audience interaction.
To their usual setlist of 'Hoy!Sala', 'Yuddabhumi', 'Ugra Narasimha' and 'Dhwesha' new song additions in 'Neeney Alu' and 'Sattva Bali' were made. Add to that an excellent cover of Obituary's 'Slowly We Rot' and you've got one helluva show on your hands – old school death metal done well!
Goregrind veteran band Gorified was next to take stage. Having seen them quite a few times last year they really didn't have anything new to bring to the table but put on a brutal show for all the gore fiends in attendance nonetheless.
As is usual with Gorified, violent moshing started right from the opening note of the first song, 'Engorged the Disfigured'. The fact that Shreyas was missing behind the drum kit didn't deter Gorified from playing a longer set than usual. They ended their set with an announcement concerning the upcoming Undergrind Fest and stated that Wormrot from Singapore had been confirmed as the main headliners and were to be supported by local talent in Anorectal Ulceration, Bad Taste, the recently reformed Perforated Limb and Gorified themselves. 
Cauchemar, the Canadian doom metal band, was the first of the headliners to play. They are probably the first international traditional doom metal act to play here in India. Due to the fact that their drummer wasn't able to join them and that Annick didn't play live bass for the band, Ganesh Krishnaswamy (Bevar Sea) and Deepak Raghu (Bevar Sea/Dying Embrace) provided drum and bass support for their sole Asian gig. It was really heartening to see how well the Bevar Sea guys gelled with Annick and Francois, learnt the Cauchemar songs in such a short notice and made the band feel like a cohesive unit.
Cauchemar's sound is predominantly rooted in old school doom ethos à la  Black Sabbath, Saint Vitus, Pagan Altar and a ton of other doom legends with Judas Priest-esque interludes and passages in a couple of the songs. Their set consisted of the five songs from their debut EP La Vierge Noire as well as 'Under the Oak', a Candlemass cover.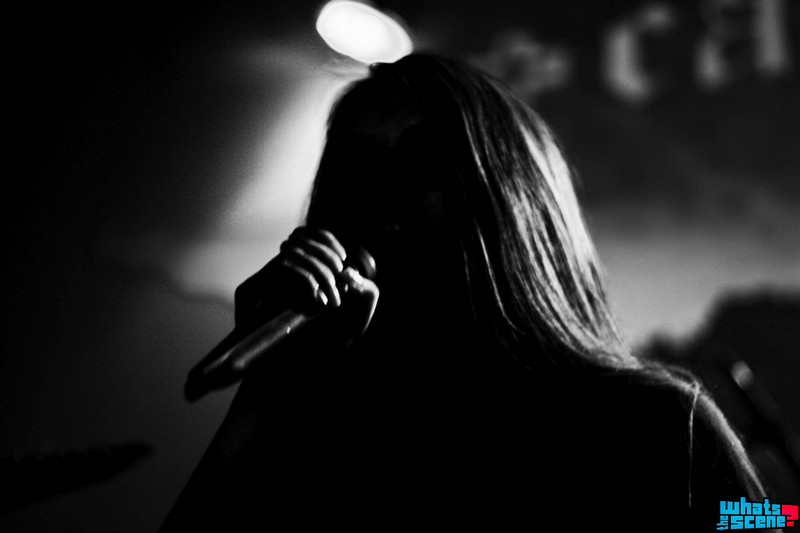 They started off with 'Magie Rouge', a slightly melancholic number which with Annick's vocals (which were in French) sounded magical. The next song, 'Valse Funebre', continued in the same vein – it was some quality doom that these folks were playing! 'Les Ailes de la Mort' brought an up-tempo swing to set, following which they reverted back to playing slow doom in 'Les Gardiens de la Terre'. The Candlemass cover came next and the band ended their splendid show with 'La Voile D'isis'. A performance par excellence, without doubt.
The legendary Dying Embrace finally took stage to a crowd cheering and applauding thunderously, this being their first show after Riff 'em All in October. They started off their set with the crushing 'As Eternity Fades' followed by a chilling performance of 'The Passing Away.' In keeping with the dark atmosphere they'd conjured, the next track in their arsenal was 'Blood Rites'.
Then came the iconic, blood-curdling, hair-raising shriek from Vikram that meant 'Grotesque Entity' was on next. This was followed by the much-awaited 'Dagda – His Time Has Come', mainly for Jimmy's disorienting, blistering solos. Just like their previous performance at TrendSlaughter, Vik had a surprise for the fans. This time around the giveaway was a DVD (Carrying the Burden of Doom) of their previous outing (before this, it was a special re-issue of their EP Grotesque).
They seemed to have wrapped up the set with 'Spawn of the Depths', 'Oremus Diabolum' and a tribute to their idols Autopsy – a brilliant cover of 'Twisted Mass of Burnt Decay'. Back for the encore, they had yet another surprise – a new song titled 'Ascendence of Namtar', that had the added pressure of living up to DE's legacy and it didn't disappoint. It was almost as though the decade, that had passed since they had last written any material, never happened, or didn't matter. The song was heavy as f**k – some good old school doom metal with Persian/middle-eastern vibes. And, on that high note, they ended their performance of the night. Kudos to Deepak Raghu for playing so well with no break immediately after Cauchemar's set. 
The final band to play that night was Japan's Abigail. Raw, abrasive, highly energetic thrash is what this three-piece band dished out – Motorhead of the east as some of the people at the gig quite rightly put it. The first half of their set consisted of numbers that leaned towards punk/thrash, while quite a few from the latter half were more black/thrash in nature.
They put on a charged high-octane performance, interacting well with the crowd, who after a couple of minutes started massive, back-breaking, neck-snapping, frenzied mosh pit- a fitting response for a song titled 'Satanik Metal F**king Hell'. Their entire set was a raucous, loud thrash attack, what with the aggressive riffing and angry solos that accompanied them, the shrill battle-cries that formed the vocals and drumming that simply sought to bludgeon everything in its path!
While there was a communication barrier of sorts, the more or less incomprehensible howls of the frontman Yasuyuki were taken by the crowd as a sign to raise hell. They played a massive set of around twelve songs without showing any signs of fatigue or wearing down. The encore, consisting of three songs, was just as lively as the main set. And, for their very last song – 'Rocking Metal Motherf**kers', they had Vikram from Dying Embrace and Annick from Cauchemar join them on stage to take on vocal and bass duties respectively and play their hearts out, which was as good an end to the show as one could expect. 
Allowing the crowd to hang out and freely interact with the international bands was a good thing to do on the organizer's part – the fans who purchased merchandize managed to get it autographed and the bands were more than happy to oblige. A fairly large number of posters were distributed to the crowd after all the bands had performed and quite a few people stayed back to either get more autographs or photographs along with the band members.
The show ran smoothly with no hiccups, with each of the bands putting forth a great performance. All in all, it was a great showcasing of Bangalore's Metal underground while introducing bands from around the world to the Indian scene. Attendees indeed got their money's worth and here's hoping to more such gigs in the future – kvltest show of the year indeed!